When adding a new sheet to a drawing in SOLIDWORKS, the software usually pulls the saved sheet format from the drawing template. However, this sheet format can be lost for a number of reasons. This article walks you through the steps necessary to restore this sheet format so that it will be automatically updated when adding new sheets.

To Resolve This Issue
1. In SOLIDWORKS open a blank drawing using a drawing template for which you want to resolve the issue.
2. Open the drawing sheet properties by doing a right click on a blank area anywhere on your drawing sheet, expand the menu by hovering your mouse over the arrows at the bottom, and select Properties…  
3. The Sheet Properties menu is now open. The outlined box contains the link where the sheet format is found. In this case, that link is likely wrong. Click Browse… and browse to the location where you've saved your drawing sheet format (*.slddrt).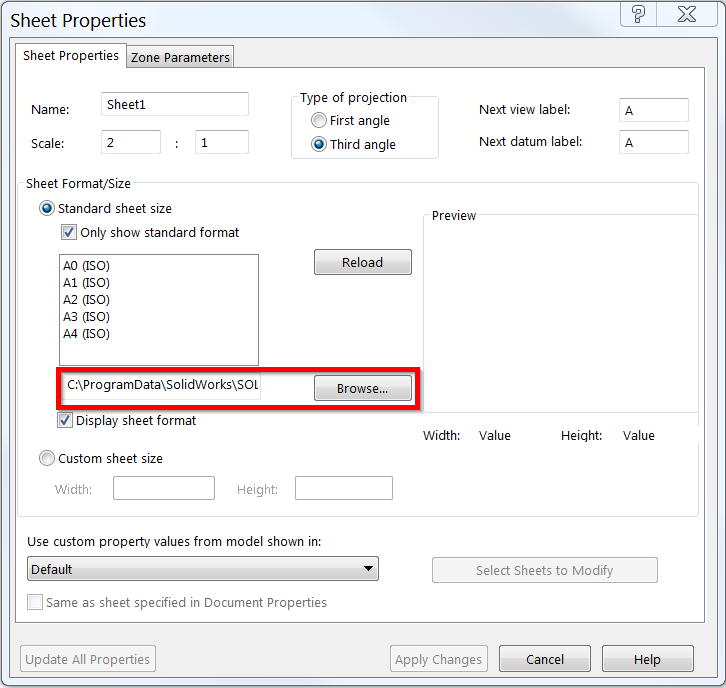 4. Select Apply Changes to close the Sheet Properties Menu.
5. Proceed to save this new file as your new drawing template. Select File > Save As…and save as a Drawing Template (*.drwdot) in your templates folder. (SOLIDWORKS can be pointed to this location through Tools > Options > System Options > File Locations)
For further assistance, please contact our HawkSupport team at 877-266-4469(US) or 866-587-6803(Canada) and support@hawkridgesys.com.