Bonjour Installation Error
This guide is written to address Bonjour related installation issues from SolidWorks 2012 to 2016. The issue causes the Installation Manager to crash upon installation. SolidWorks uses Bonjour 3.0.0.1 for activities such as PhotoView 360. Unchecking PhotoView 360 from the Installation Manager still triggers the problem.
Problem
During the installation of SolidWorks, the user may be presented with a number of messages attributed to a later version of Bonjour being installed. One of the most common message users encounters shown below.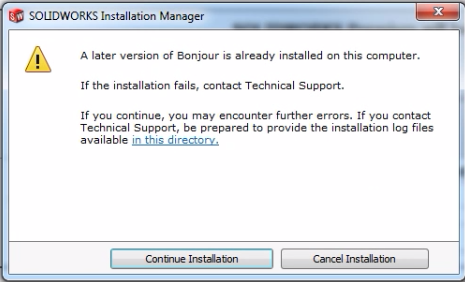 This error message specifically describes what is causing the issue. Occasionally the message may not be as straight forward. The message below is far broader and is typically related to an incorrect version of Bonjour.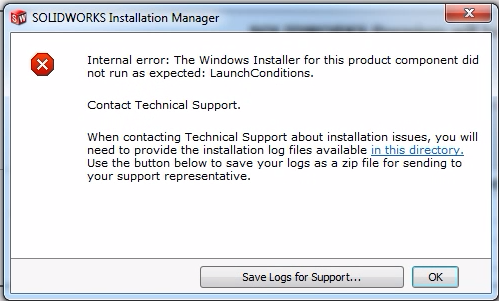 Just like any other installation error, it is generally a good practice to select "Save Logs for Support…". When viewing the logs, searching for keywords such as "Dump" and "Return value 3" are always good places to start. Bonjour related installation errors are typically located a few lines before the start of a dump, as shown below.

In the case above, the installation logs verified that an incorrect version of Bonjour was installed. Typically the most common version of Bonjour that causes installation issues is 3.1.0.1. iTunes 12.3 has been known to install 3.1.0.1, which causes this issue. Once it has been verified that the incorrect version of Bonjour is installed, the repair process can begin.
Repair
Open up the "Start" menu in Windows and select "Control Panel."
Select "Uninstall a Program" or "Programs and Features" depending on Control Panel view settings.
Locate the Bonjour program and verify that it is not on version 3.0.0.1.
Uninstall Bonjour by right-clicking the program and selecting "Uninstall."
Select "Yes" when presented with the dialogue box to uninstall.
After Windows has completed the uninstallation, the SolidWorks installation can be started.
The SolidWorks Installation Manager will automatically install the required version of Bonjour, 3.0.0.1. If the user wants a newer version of Bonjour, they may update Bonjour after the installation of SOLIDWORKS has been completed.