This article gives suggestions to resolve the warning "Failed to obtain a computer identifier", which can occur when starting SOLIDWORKS. Activation attempts made after receiving this message will result in the error "Could not initiate the transaction".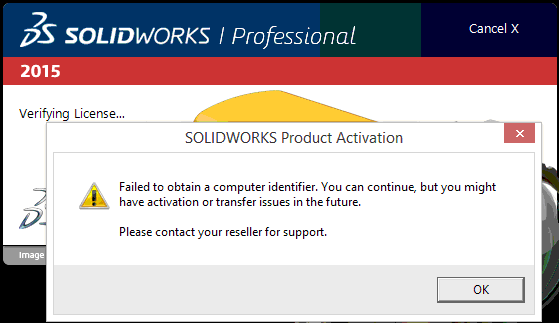 If the error message above occurs, click OK, then cancel any activation prompts that appear.
Open the Windows Services tool: click Start > type "services" > right-click Services and select Run as administrator.
Scroll down the list to FLEXNET Licensing Service and FLEXNET Licensing Service 64. Ensure that these services are not stopped or disabled. If they are, edit their properties and change their startup type to Manual or Automatic, then start the services.
Try again to launch SOLIDWORKS and follow the activation procedure if prompted. If this does not resolve the problem, please contact Hawk Ridge Systems Technical Support.
Please also refer to solutions S-066259 and S-065144 in the SOLIDWORKS Knowledge Base.
If you have any questions about the steps please contact Hawk Ridge Systems technical support line by emailing support@hawkridgesys.com or calling 877-266-4469