This guide is written for SOLIDWORKS Electrical specifically and not for other SOLIDWORKS products.
If you are experiencing serious issues with your SOLIDWORKS Electrical software, you may need to fully uninstall the program and all associated programs and files before attempting to reload the software. This document covers how to do this complete removal of the product and associated components.
Before Uninstalling SOLIDWORKS Electrical
Prior to uninstalling SOLIDWORKS Electrical it is recommended to backup your environment and then deactivate your Electrical license. If you are using a network license skip the deactivation process and continue to backing up your data.
Back-up your data
It is strongly recommended that you archive your environment prior to performing any uninstall or maintenance of SOLIDWORKS Electrical. This will save a copy of all your program data (projects, components, symbols, etc.) into one compressed file. To do this, click the Archive Environment button within the SOLIDWORKS Electrical application and run through the wizard. Note that the archive may take several hours to create, so we recommend running this process overnight.
License Deactivation
Go to Windows Search Box, type SOLIDWORKS Electrical, and click to launch the program.
After SOLIDWORKS Electrical starts, go to the Help tab and choose Deactivate License.
Choose to activate Automatically over the Internet.
Press the Next You will now connect to the SOLIDWORKS Activation site to return the license. You will be informed that the license has been transferred back to SOLIDWORKS.
Press the Finish button to complete.
SOLIDWORKS Electrical will not run on this machine until it is re-activated.
Uninstalling SOLIDWORKS Electrical 2019 (Basic)
Open the Control Panel or Add or Remove Programs menu and right click on SOLIDWORKS line item and select Change. If your SOLIDWORKS was installed via an administrative image, you will only have the uninstall option available to you. Proceed with the modification until the Product Selection screen is presented and de-select all Electrical components. Follow the prompts to remove everything. (Removing actual project data is optional, it contains both your project data and SQL data)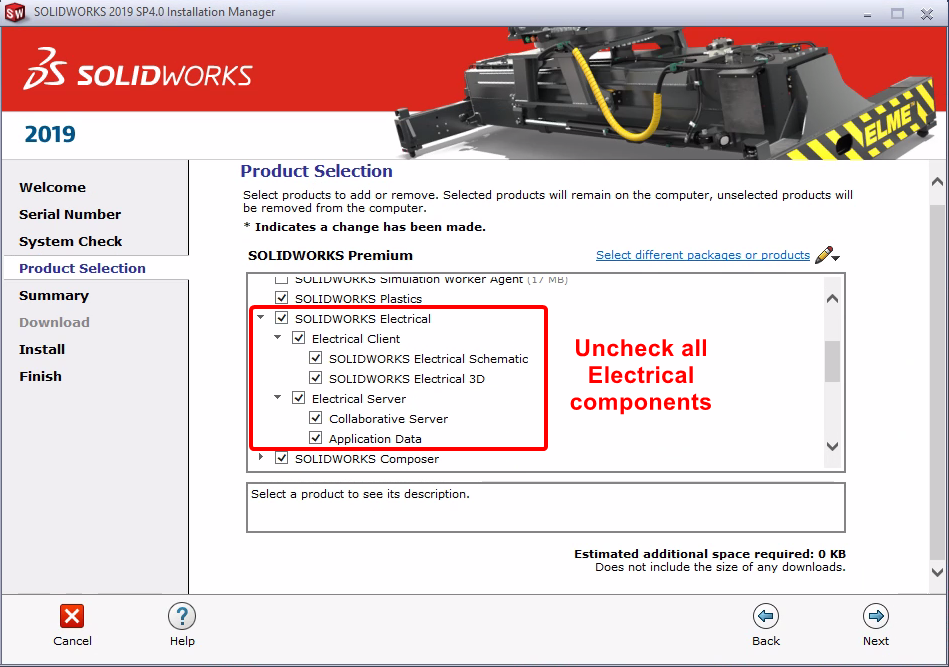 Cleaning up the Uninstall (Advanced)
The next steps are for cleanly removing the rest of the Electrical data including the program folders, project folders, application registry, SQL, SQL folders, and SQL registry.
Warning: Do not proceed unless you have a full Electrical environment backup or without the help of your IT professional. SQL can be a shared resource, uninstalling it can impact other applications. Deleting IT keys can cause system instability. Do not proceed without IT consent.
Restart the computer and then go back to the Control Panel and Add or Remove Programs and remove all Microsoft SQL 2008 R2 Content.
Note: Backup the SQL content. Also not to be done if you have built library content. Full uninstall instructions for SQL can be found here.
Folders to delete:
C:\Program Files\SOLIDWORKS Corp\SOLIDWORKS Electrical
C:\ProgramData\SOLIDWORKS Electrical
C:\Program Files\Microsoft SQL Server
Registry keys to delete:
Computer\HKEY_LOCAL_MACHINE\SOFTWARE\Trace Software
Computer\HKEY_CURRENT_USER\Software\Trace Software
Computer\HKEY_LOCAL_MACHINE\SOFTWARE\Microsoft\Microsoft SQL Server
Removing other SOLIDWORKS Products
To cleanly remove other SOLIDWORKS products, please review this video.