This article discusses how to resolve the issue with Visualize hanging at 'Initializing' or crashing when opening new and existing projects.

We found this issue occurs when Visualize tries to use the system's integrated graphics card instead of the dedicated card. It is caused by a Windows 10 update that changes how the NVIDIA GPU is used with SOLIDWORKS Visualize. 
SOLUTION:
Here are the steps to resolve this issue:
1. Open the NVIDIA Control Panel using one of the methods listed below:
a. Right‐click the Windows desktop, then click NVIDIA Control Panel from the context menu: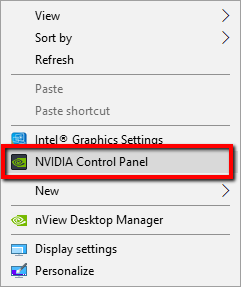 b. From the Windows Start menu, select Control Panel> Hardware and Sound> Nvidia Control Panel:

2. Select Manage 3D Settings:

3. Click on the Global Settings tab. For the 'Global presets' select 3D App - Default Global Settings:

4. Under 'Select the preferred graphics processor for this program', set the option to High-Performance NVIDIA Processor:

5. Click Apply and close the NVIDIA Control panel. 
Once these steps are completed, launch Visualize to check if the issue is resolved. 
If you have any questions regarding the information above or are unable to troubleshoot this issue, please contact Hawk Ridge Systems Technical Support at 1-877-266-4469  (US), 1-866-587-6803 (CAN), or support@hawkridgesys.com.