With each new year version of SOLIDWORKS, the chance that you will need to send a file to a user or customer that uses a previous year's version grows. SOLIDWORKS is backward compatible, (meaning you can open a 2017 file in SOLIDWORKS 2018) but is limited in forward compatibility (opening a 2018 file in 2017).
In 2014 sp5 SOLIDWORKS introduced a way to open parts and assemblies in a read-only state 1 version previous to the version it was saved in. That means you can open a 2020 part or assembly in 2019sp5 or a 2021 file in 2020sp5. This is only available in the sp5 version of each year and it has limited functionality. See this help article for it's capabilities.
So what can you do if you need to send the file to someone using 2 or 3 year older version of SOLIDWORKS? The best route is to send a parasolid.
Solution
SOLIDWORKS treats all .x_t (parasolid) files as a neutral 3rd party file. Because of this, it is possible to export your file as a parasolid and then import it back into a previous years version of SOLIDWORKS. This workaround can be done with both part and assembly files. We recommend the parasolid format rather than step because it is native to the kernel of SOLIDWORKS so there is no fidelity lost because there is no translation.
1) Open the part or assembly within SOLIDWORKS that you wish to export.
2) Verify within your system options that the file will export properly. If you plan on exporting using a step file format the Solid/ Surface geometry will need to be toggled on. Parasolid does not need to have any options changed since it will always be saved as a solid.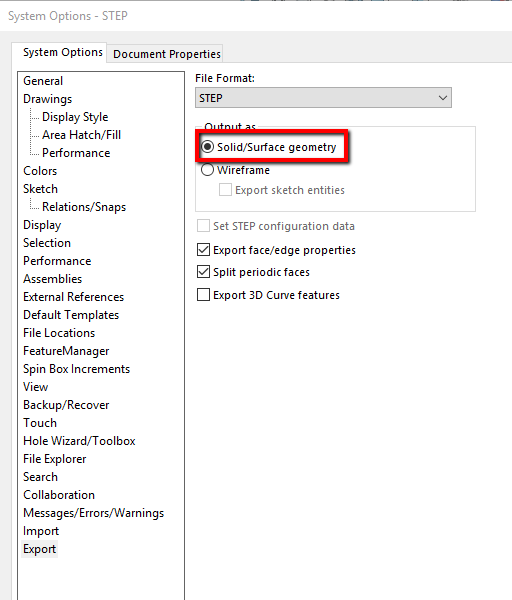 3) Save the file using File -> Save As and change the file type to .x_t (parasolid). Keep in mind that the more faces and edges to export the longer it will take an larger the file size. Large assemblies can take a long time to export and the file size can be quite large.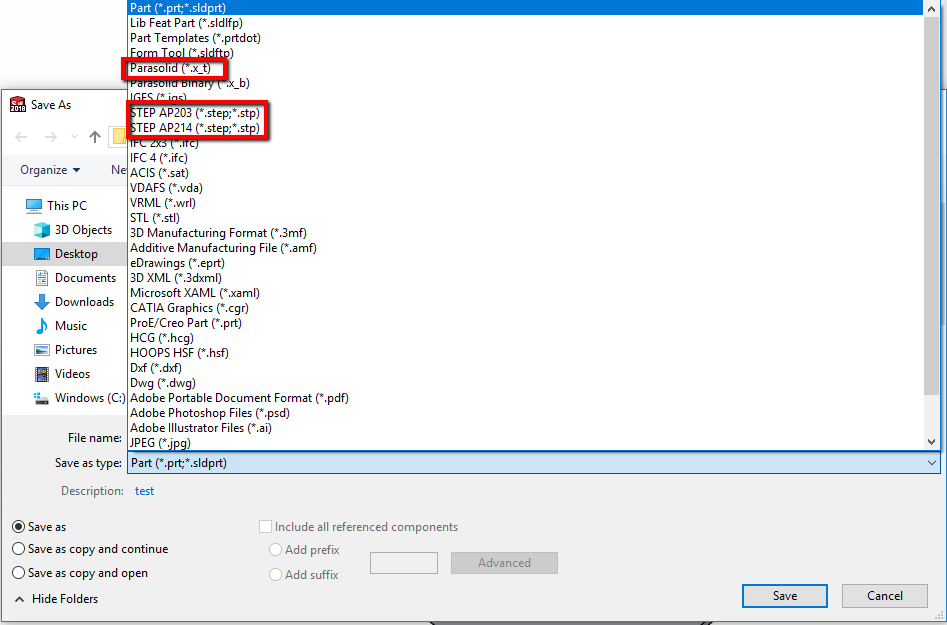 Once the file has been saved as a parasolid you can send it to the user who wishes to open it in the previous version. Even though the file comes from SOLIDWORKS it will still be treated like any other imported file and need to follow the normal import process. There will be no features, but it will be editable just like any other imported body.