This guide will assist you with the installation and activation of 3DXpert for SOLIDWORKS.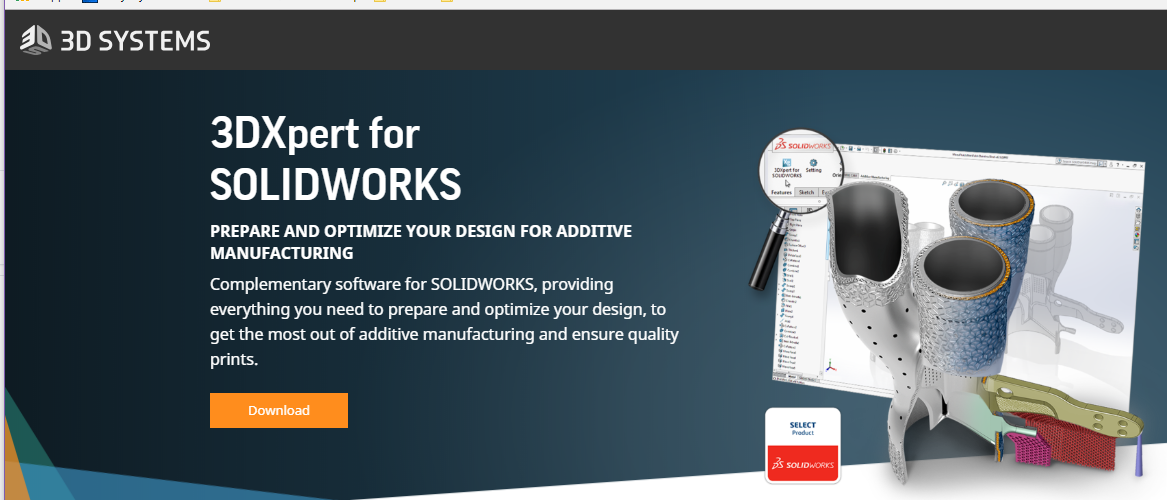 This document is an illustrated guide and will walk you through the required steps to install and activate 3DXpert for SOLIDWORKS. 3DXpert equips professional users, designers, and engineers with everything they need to prepare and optimize their design for additive manufacturing.
Contents
1. Confirm Hardware requirements to run 3DXpert. In most cases since you are running SOLIDWORKS, your PC will need the requirements.
Memory (RAM) / Processor:
--Minimum: 16 GB RAM, 4 cores
--Recommended: 32 GB RAM, 6 cores i7 (i7-6850K)
*Note: To gain better I/O performance, it is recommended using a solid state hard Drive (SSD). Windows and 3DXpert for SOLIDWORKS should be installed on the SSD.
**The file management should be configured on a different hard drive, local or network based.
Graphics Card:
-Quadro cards from NVidia and AMD Radeon Pro cards are the most recommended cards for CAD/CAM software. (FireGL/FirePro cards from ATI were recommended prior to the discontinuation of those cards)
For additional graphics cards options go to following website: https://cimgraphics.cimatron.com and select the product 3DXpert
* The performance of graphics cards is tightly related to driver version and memory size. The newer the driver and the greater the memory, the better the graphics card performance.
**The graphics card must support OpenGL 3.3 -- Minimum: 1 GB of memory with recommended: 2 GB of memory
3 Button Mouse
2. Confirm OS and Software component requirements
Windows operating systems:
Windows Server 2008 or 2012.
Windows 7, Professional/Ultimate Edition.
Windows 8 or 8.1, Professional/Ultimate Edition.
Windows 10, Professional/Ultimate Edition.
** Note: .NET Framework 4.5 is an installation prerequisite. If this is not installed, it is automatically installed during the 3DXpert for SOLIDWORKS installation process.
3. Download the installer using the Download button here: https://www.3dsystems.com/software/3dxpert-solidworks
4. Run the Installation application as an administrator. Administrator permissions are required to install 3DXperts. It is also recommended to have User Access Control disabled.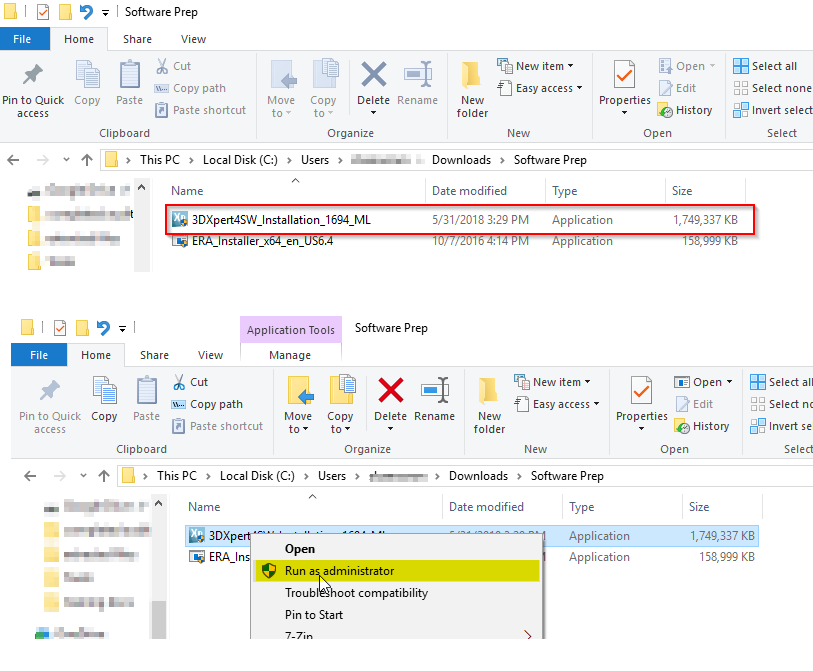 5. When you start the download, if there are any missing requirements, those will be downloaded and installed first before you get the full InstallShield Wizard for 3DXpert.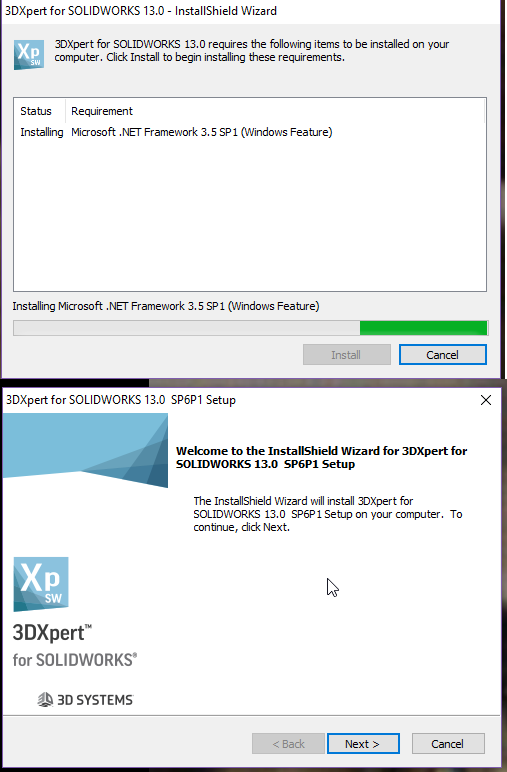 6. Once you have the Installation Wizard, click Next and accept the user agreement. You may also print a physical copy (or make a PDF copy) of the EULA for your records.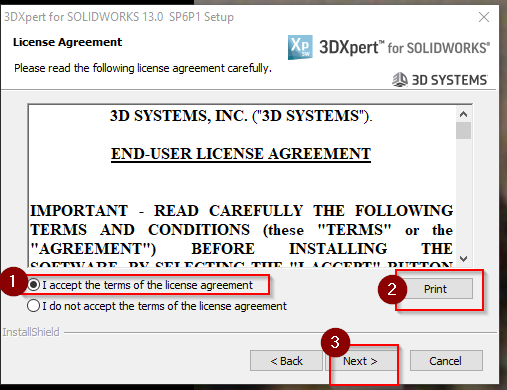 7. After you have accepted the End-User License Agreement you will be prompted to confirm your install location and where your user files are saved.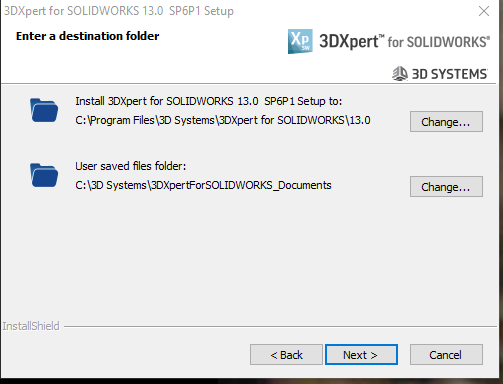 8. Confirm the Install.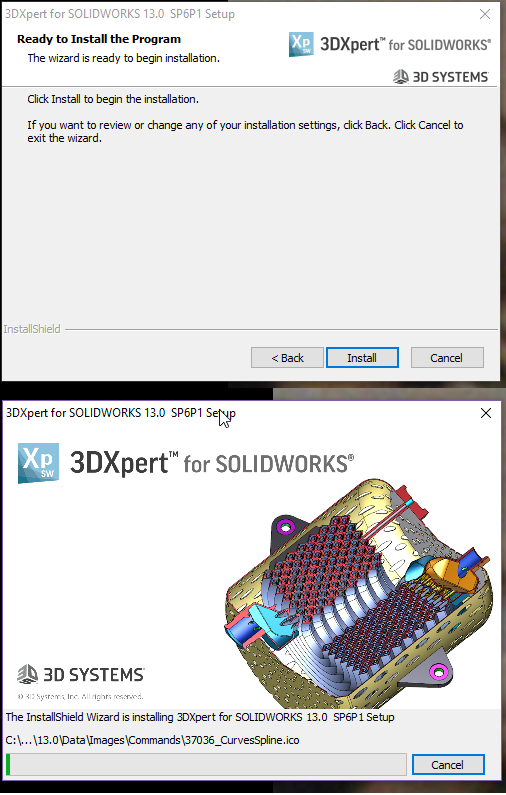 9. Complete the install wizard. If required, you will be prompted to reboot after clicking finish. A reboot is dependent on your specific OS configuration.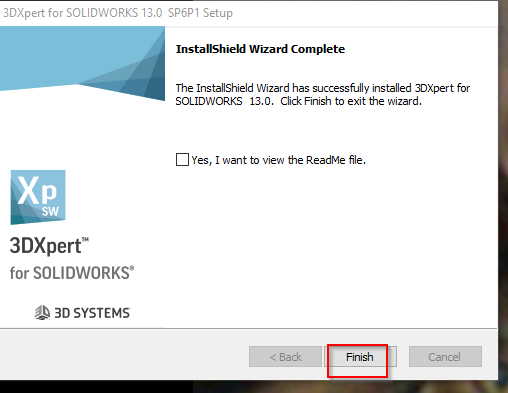 Activation overview:
Step1 - Get an Activation Code from SOLIDWORKS
Step2 - Activate 3DXpert for SOLIDWORKS on MySolidWorks
Step3 - Get License by email and install the license file
Activation Process detailed:
1. Open SOLIDWORKS and access a part or assembly (can be a new unsaved part). Double click the 3DXperts for SOLIDWORKS icon, this will open the Activation Wizard.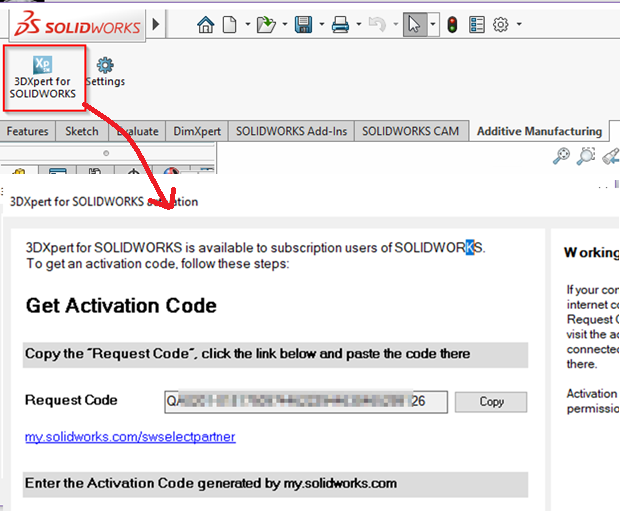 2. Click the my.solidworks.com/swselectpartner link. Login with your MySolidWorks account if prompted.
3. Copy and Paste the Request Code, click Get My Code and you will be provided an Activation Code.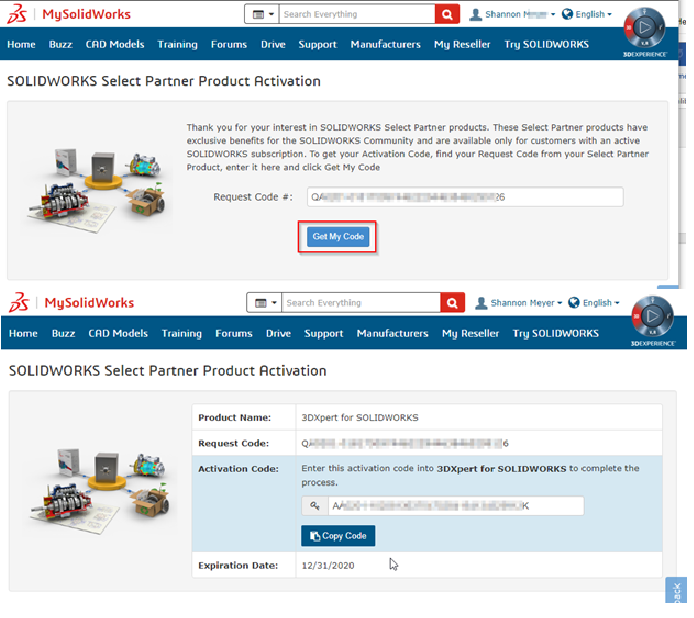 4. Copy the Activation Code and then enter it into your 3DXpert for SOLIDWORKS Activation Wizard. Once entered into the Wizard click Next.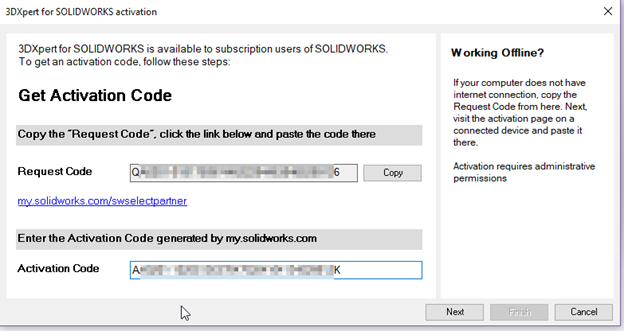 5. You get a screen with the Machine Key and a 3DXpert4SWActivation.3dsystems.com link. Click the link.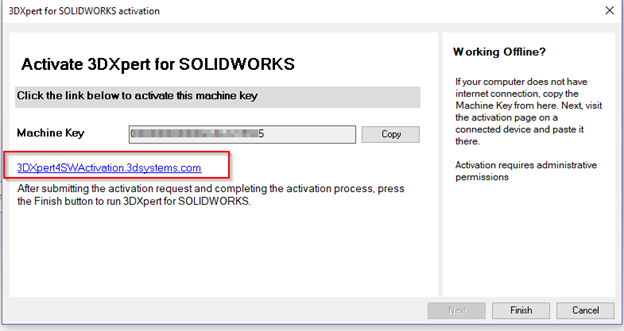 6. Fill out the new browser page which is for registering and requesting the Activation of your 3DXpert add-in. Click Submit & Create License to be sent an email with your license file.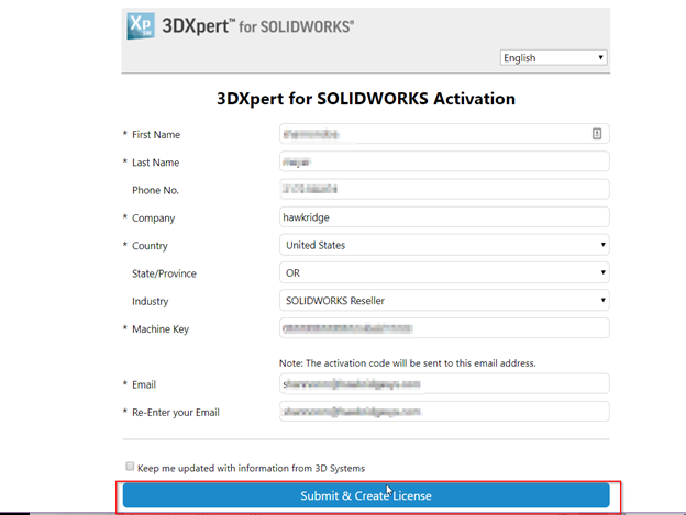 7. Access your email, then open the new email from 3DSystems and click Get Activation File.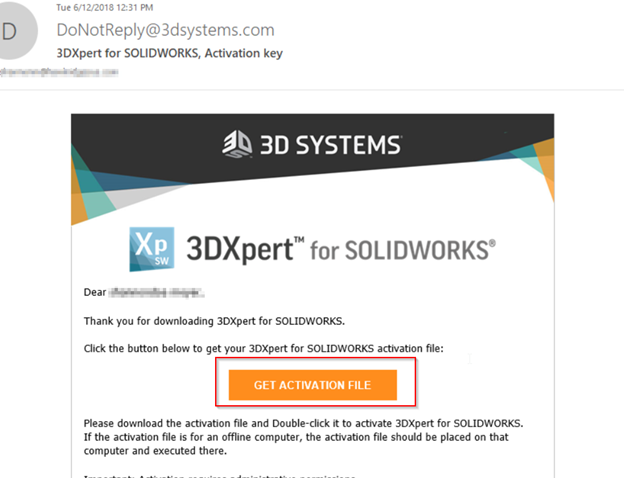 8. Once the file downloads, select Open/Run on the file, this will complete activation of 3DXperts.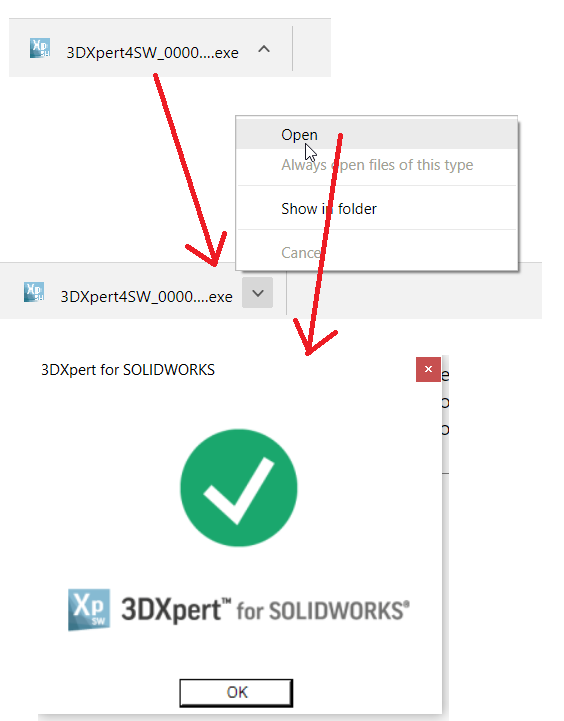 ** Now you can open your saved parts/files in 3DXperts. **