This article walks through troubleshooting steps that can potentially resolve the "Contact your administrator, can't write to the following log file" error that prevents a SOLIDWORKS administrative image install from launching.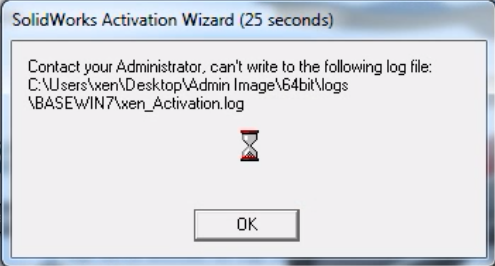 Root Cause
The error shown in the illustration above can be encountered when an admin image install of SOLIDWORKS has been set up to automatically activate when first launched. The option for this silent activation method is found in the "Client Installation Options" section of the Administrative Image Option Editor.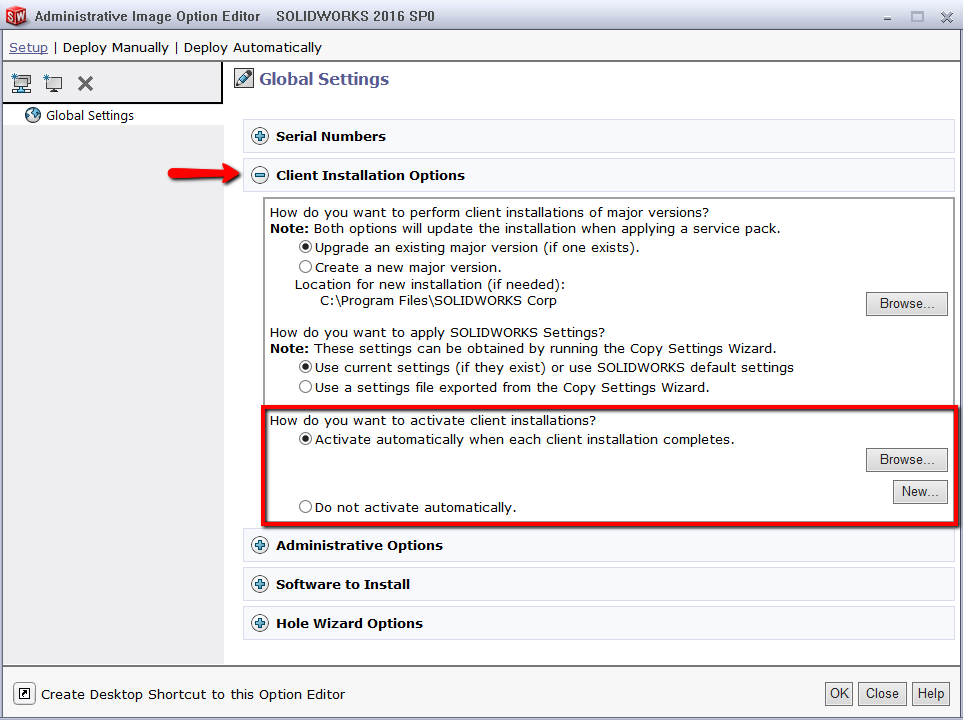 In order to activate successfully, the Administrative Image Option Editor generates several activation files that must be referenced once SOLIDWORKS launches for the first time. During this silent activation, SOLIDWORKS must also create a log file in the directory from which the admin image was installed from. 
A failure to create the previously mentioned activation log file indicates that SOLIDWORKS cannot reference the original paths from where the administrative image was installed. Typically, this will be either caused by inadequate permissions to the admin image folder, or by the actual relocation of the admin image directory before the software is launched.
If it has been verified that the client machine has administrative access to the admin image installation folder, the error can be removed by following the steps listed below.
Solution
For the following process, the Windows Registry Editor will be utilized. It will be extremely important to not edit anything other than what is listed in the steps below.
1. Open the Windows Start menu > type "regedit" without quotations into the Windows search field > Right click on regedit.exe > Select "Run as administrator".
2. Navigate to: HKEY_LOCAL_MACHINE\SOFTWARE\SolidWorks\Licenses\Activation Wizard\<version number>, where <version number> is the release number corresponding with your release of SOLIDWORKS. This article will use 2016 as an example, which is the 24th major release of the software.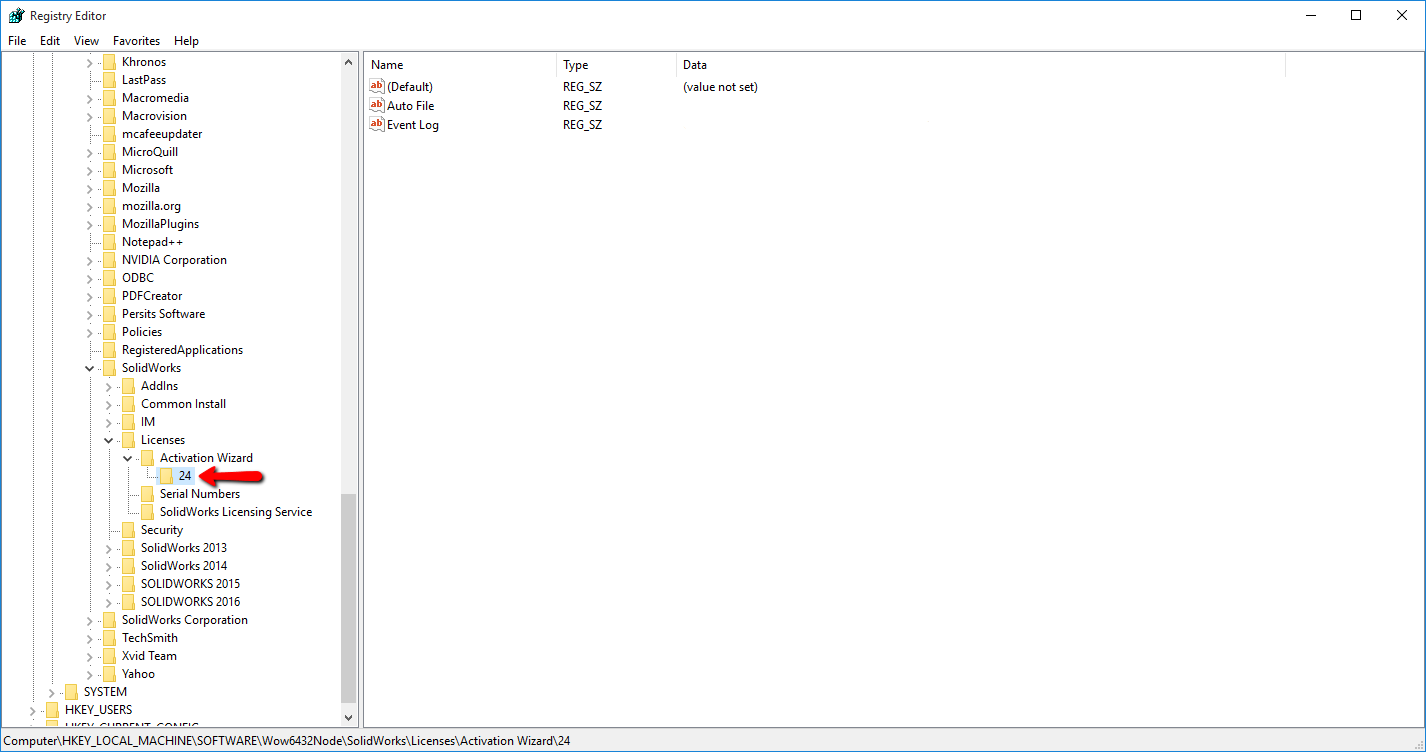 3. Delete the "Auto File" and "Event Log" Strings that are located in this specific version key, as shown below.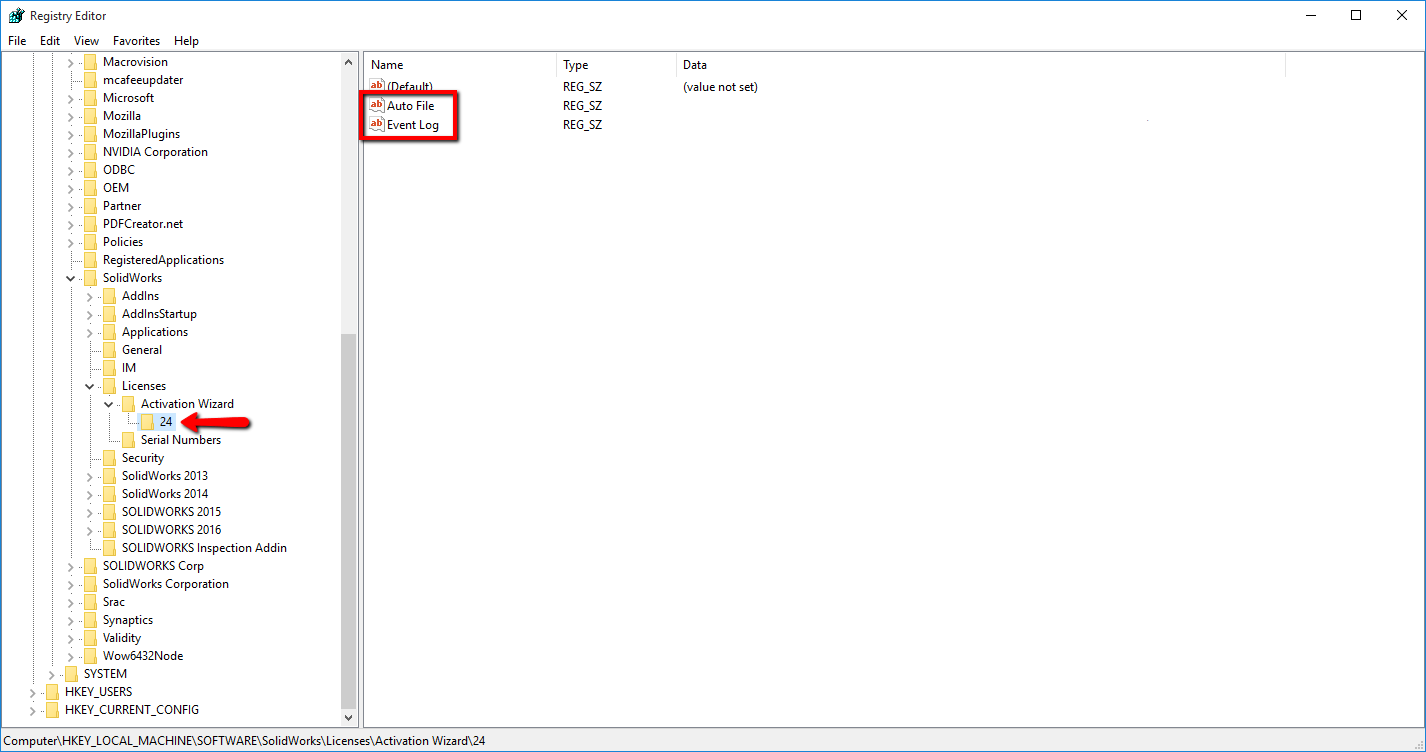 4. After deleting these two Strings, navigate to HKEY_LOCAL_MACHINE\SOFTWARE\Wow6432Node\SolidWorks\Licenses\Activation Wizard\<version number>. Delete the "Auto File" and "Event Log" Strings from this location as well.
5. Launch SOLIDWORKS and follow the activation prompts that appear. 
If you have any questions regarding these steps, or if you run into any issues that we can assist you with, please feel free to contact Hawk Ridge Systems Technical Support at: support@hawkridgesys.com