During the a SOLIDWORKS installation, there is a chance DLL or EXEs fail to register and the following error message may occur: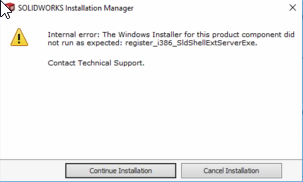 The error will also appear as a line item within the SOLIDWORKS installation logs:
4:16:10 Error Status 149 0 "Product:SOLIDWORKS ErrorCode:1722 CA:register_i386_SldShellExtServerExe Location:C:\Program Files\SOLIDWORKS Corp\SOLIDWORKS\sldShellExtServer.exe Command:sldshellextserver.exe /REGSERVER"
OR
register_i386_sldshellextserverexe. Return value 3.
OR
regsvr32 xyz.dll. Return value 3.

This error is commonly associated to having corrupt installations or missing installations of the Microsoft Visual C++ prerequisite packages.
Reinstalling Microsoft Visual C++ Prerequisites
To resolve this issue, a manual uninstall and reinstall of the Microsoft Visual C++ prerequisite is recommended. In order to accomplish this, please see the steps listed below.
Navigate to Windows Programs and Features and uninstall all programs that begin with Microsoft Visual C++ that are currently installed on the computer, starting with the newest version.

Download the latest service pack set of each years C++ installers from the following link:
Extract the .zip file to the computers desktop and run all of the vcredist (_x64 and _x86) that are in each years folder. Double clicking the executable will begin the installation either automatically, however some require an additional approval to begin. If you are asked to repair or uninstall one of the Microsoft Visual C++ programs after running a vcredist executable; verify if you have already installed that version, and if so close the installer window and continue to the next C++ installer.
Begin a new installation of SOLIDWORKS using the Installation Manager. It is normal for the installation process to try and re-install Microsoft Visual C++ again.