The CAMWorks hardware dongle license is an alternative form of the CAMWorks standalone license. ­In a multi-user environment, CAMWorks can be installed on as many computers as desired, but CAMWorks license dongle (in the form of a USB stick) must be inserted into the computer for the software to run. This article discusses how to activate the CAMWorks software using the CAMWorks dongle and a license file (.cod file).
Obtaining the .cod File
In order to activate the CAMWorks software using a dongle, a .cod file is needed. The .cod file is usually sent to the user via email from Hawk Ridge Systems. If you did not receive a .cod file from Hawk Ridge Systems, then please email Hawk Ridge Technical Support at support@hawkridgesys.com and request a .cod file for the dongle by providing the number printed on the dongle, as well as the CPD# of your CAMWorks license.
Prerequisite Software
The following are prerequisites to activating the .cod file using the CAMWorks dongle. Note that all three are part of the standard CAMWorks installation package. If you do not have the CAMWorks installation files available, please browse to www.CAMWorks.com to download.
CAMWorks License Manager - Manages the different CAMWorks modules available for your license.

Key Manager - Decrypts the license information in the dongle.

Hardware Dongle (Sentinel) Driver - Allows the dongle to be recognized by the computer.
Update the CAMWorks Dongle with the .cod File
Once you've confirmed that all prerequisite software is installed, follow the instructions below to activate the .cod file using the CAMWorks dongle.
1. Place the dongle in the USB port of the computer that will run CAMWorks.
2. Copy the .cod file onto the C: drive or any other preferred location. We recommend C:\CW License Manager to make it easy to manage.
3. Open the CAMWorks License Manager as administrator under Windows Start > CAMWorks License Manager > CW License Manager (right click > Run as administrator).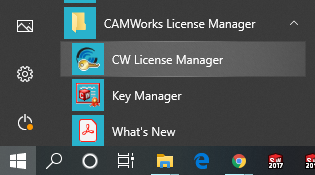 4. Select the License Setup tab in the CAMWorks License Manager and set the License Method to Hardware Dongle.
5. Click Update Dongle, browse and select the .cod file from step 2 above. Then, click Open.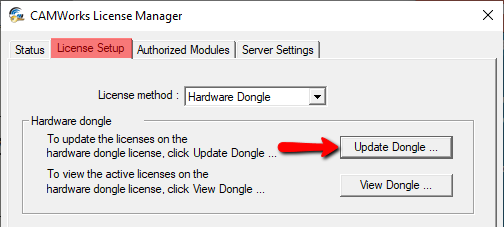 6. The Update Protection Block window will appear. Press Update.
A Security Protection Block updated successfully message will appear when the .cod file is successfully activated with the dongle. In order to use CAMWorks, make sure the dongle remains attached to the USB port of the computer. Launch CAMWorks and confirm that it is working properly.