When installing SOLIDWORKS onto a new system you may find that a Check Your System warning will appear whenever you launch SOLIDWORKS (often times with a loud ring to it):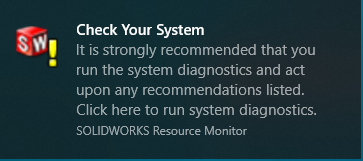 The purpose of this warning is to state that the new installation of SOLIDWORKS has not been tested within the SOLIDWORKS Rx tool, which can check your systems information to verify it is properly setup and optimized. It can also appear if you are running low on Windows resources. Despite running a system check and increasing the resources the warning can still appear after Windows updates due to the Rx tool wanting a new diagnostic. If you find that the warning appears frequently you can disable within the Windows settings.
Disabling the system warning
Within the search bar type "Settings" and click on the Windows setting menu.
Once the window opens click the System section, then Notification & Actions on the left side of the window. You can also get to this window by searching for Notification & Actions instead of settings from step one.

Scroll to the bottom of the window and find the warning for SOLIDWORKS Resource Monitor and disable the notification by clicking the bar to the right. If you do not see the notification you will need to launch SOLIDWORKS then refresh the window.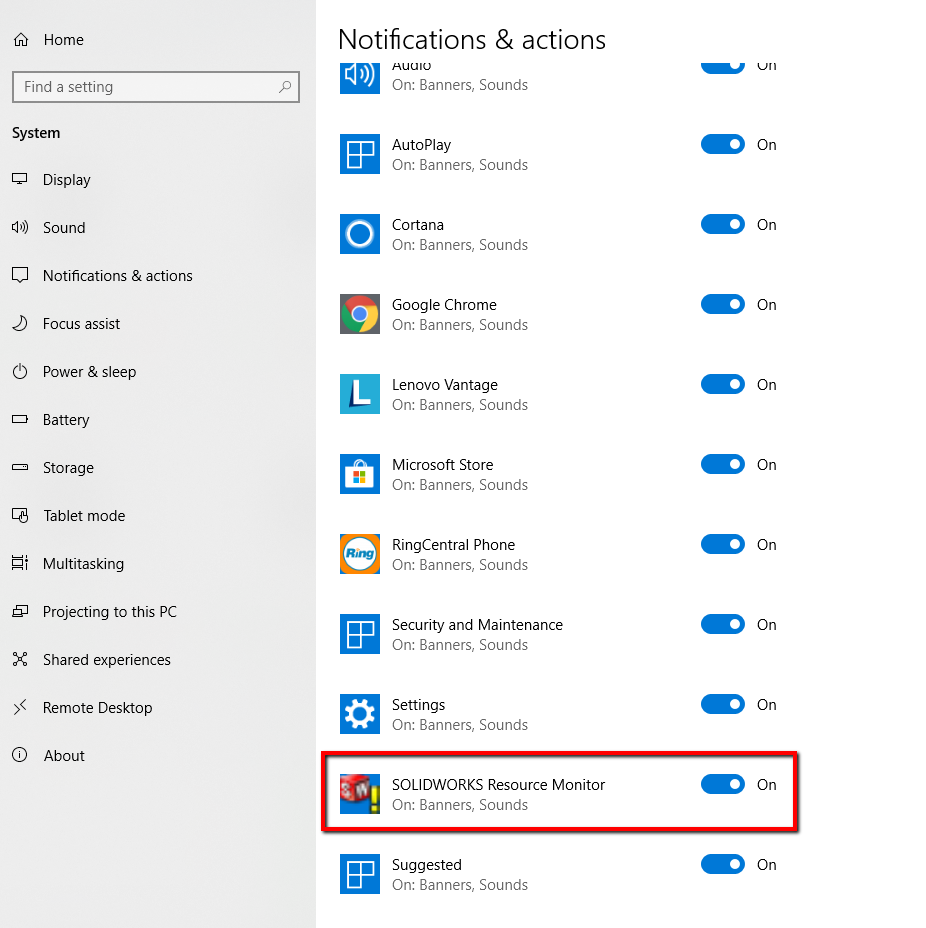 Once disabled SOLIDWORKS will no longer show the Check Your System warning when using the software (both for the initial diagnostic warning and low resources). For information on the SOLIDWORKS Rx tool and resource warning you can refer to the SOLIDWORKS blog article on the Rx tool and our article on system optimization.
If you have any questions on optimizing your system, or if other warnings consistently appear while using the software, please contact Hawk Ridge Systems at 877.266.4469 for the U.S or 866.587.6803 for Canada for further troubleshooting techniques.