This article walks through the steps needed to enable the ability to save a file in .smg format within SOLIDWORKS if the option is not accessible.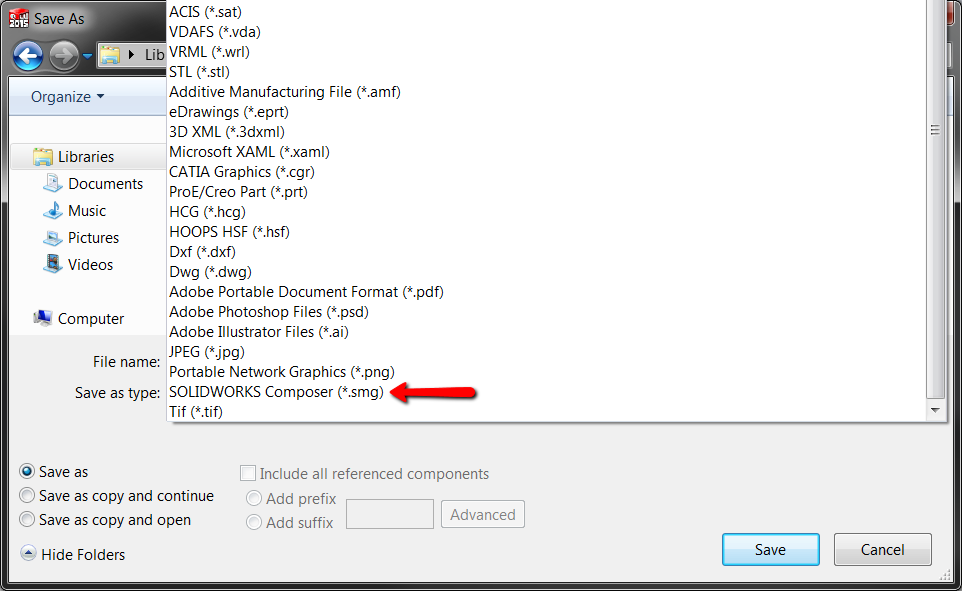 As shown in the illustration above, the option to save a file within SOLIDWORKS in .smg format should be listed in the "Save as type" drop-down menu. This format will allow files to be directly opened in SOLIDWORKS Composer and Composer Player, without the need to be converted at a later time.
If this option is not available when saving a file in SOLIDWORKS, then the steps listed below can be attempted.
1. Confirm that the add-in that enables the ability to save files in .smg format is loaded. SOLIDWORKS add-ins can be accessed via Tools > Add-Ins. As shown below, the add-in should be shown as "SOLIDWORKS Composer", though it may also be named "3DVIA SOLIDWORKS Plug-in".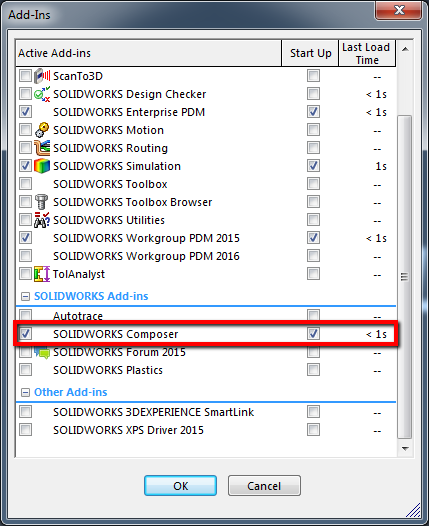 2. If the add-in is not listed, ensure that either Composer or Composer Player is installed, as one of these products will need to be present on the system. The full version of Composer will need a separate license, while Composer Player is a free product available to all installations of SOLIDWORKS.
For instructions on how to modify an existing installation of SOLIDWORKS to include different products, please refer to our Installation Modification Guide.
If these two steps do not resolve the issue, you can choose to proceed to the steps in the following section titled "For Advanced Users".
For Advanced Users
If Composer or Composer Player is installed, and the add-in mentioned above is still not available, then the add-in may have to be manually registered with Windows. This can be done by following these steps.
1. Find the related add-in .dll file, which will be on a different path based on what products are installed.
With Composer installed, the .dll will by default be located in - C:\Program Files\SOLIDWORKS Corp\SOLIDWORKS Composer\Plugins\solidworks, as shown below.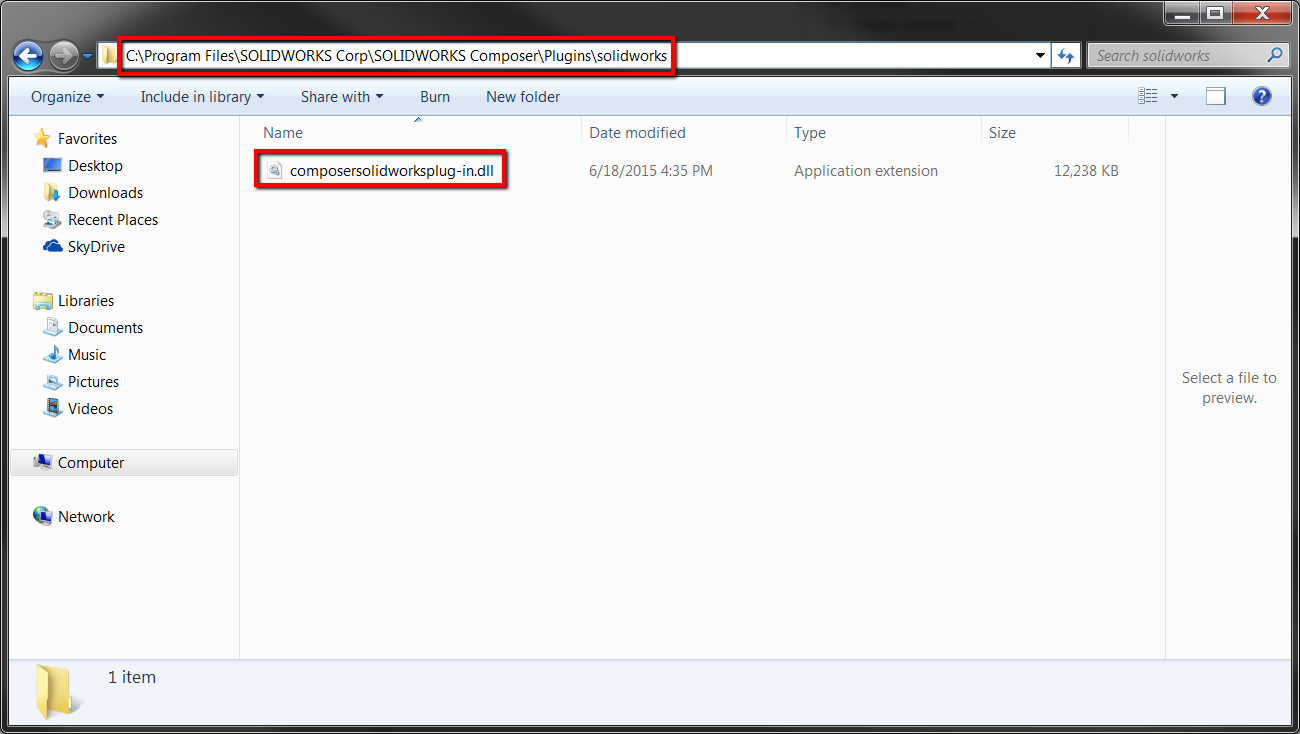 With only Composer Player installed, this .dll should by default be in - C:\Program Files\SOLIDWORKS Corp\SOLIDWORKS Composer Player\Plugins\solidworks
As a note, the "composersolidworksplug-in.dll" file shown above may have a different name based on what version of SOLIDWORKS is installed.
After locating this file, keep the window open for further use in step 4 below.
2. Open the Command Prompt as an Administrator by typing 'cmd' in the Windows search field, right-clicking 'cmd.exe', and selecting "Run as administrator".
3. In the Command Prompt Window, type in "regsvr32" without quotation marks, with a space following this command.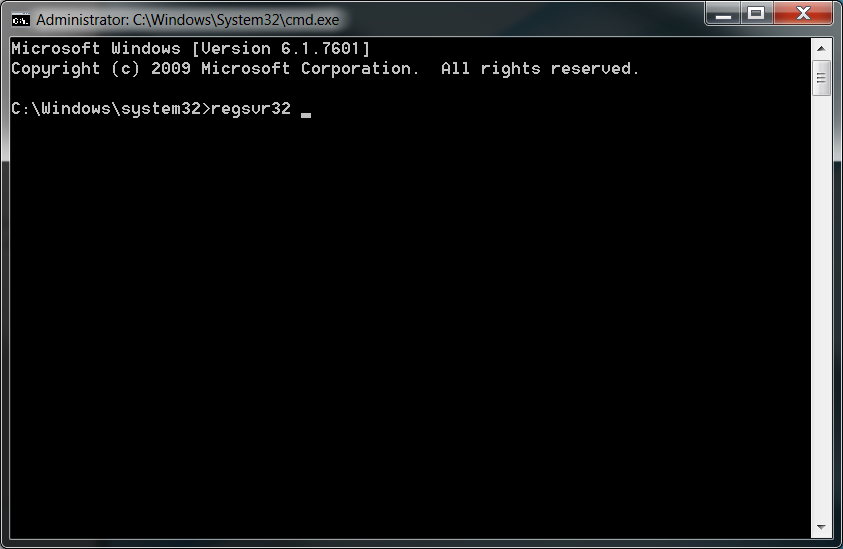 4. Drag the .dll file from step 1 into the command prompt window, which should result in the full path being automatically populated in quotation marks.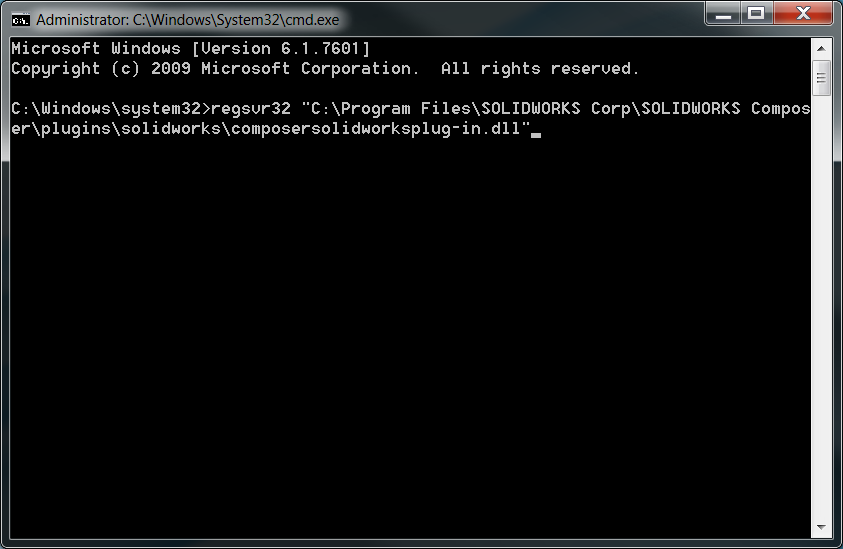 5. Press 'Enter', which should result in a message that the registration has succeeded.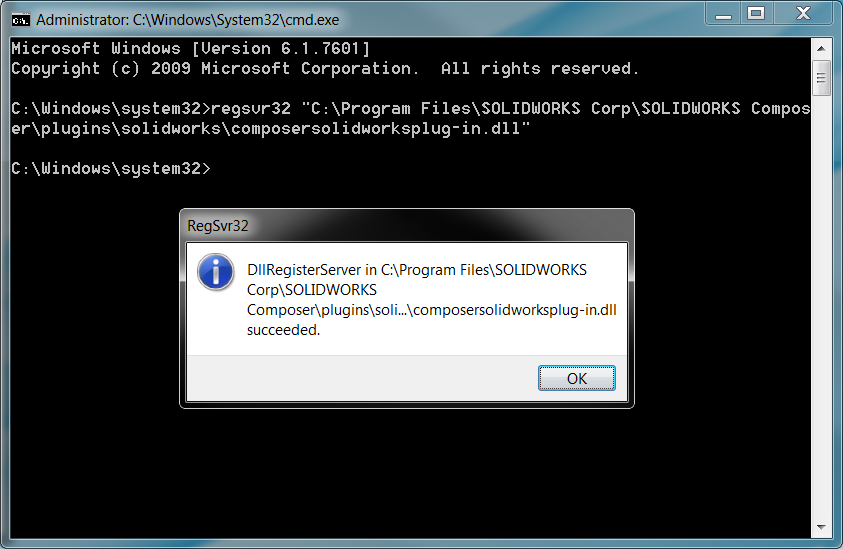 6. After performing these steps, the add-in allowing files to be saved in .smg format within SOLIDWORKS should be available for selection.
For further assistance, please contact our HawkSupport team at 877-266-4469(US) or 866-587-6803(Canada) and support@hawkridgesys.com.