This article describes the requirements for using the measure tool in eDrawings.

The ability to measure in eDrawings is available for the Free and Pro level licenses. You must make sure to have Measure Enabled in Export settings for eDrawings files.
An eDrawings file can be made non-measurable in order to protect intellectual property. A measure-enabled eDrawings file can be re-saved as a measure-disabled eDrawings file. But the reverse is not true; once an eDrawings file is saved as measure-disabled, all of its descendant files will be measure-disabled.
When native SOLIDWORKS files are opened in eDrawings, they are inherently measure-enabled. To disable measurement, the file must be saved as EPRT/EASM/EDRW with measure disabled. This can be accomplished by going to File>Save As in either SOLIDWORKS or eDrawings.
Using SOLIDWORKS:
Go to File>Save As
Change Save As type to eDrawings
Click on Options…
Uncheck the Okay to measure this eDrawings file box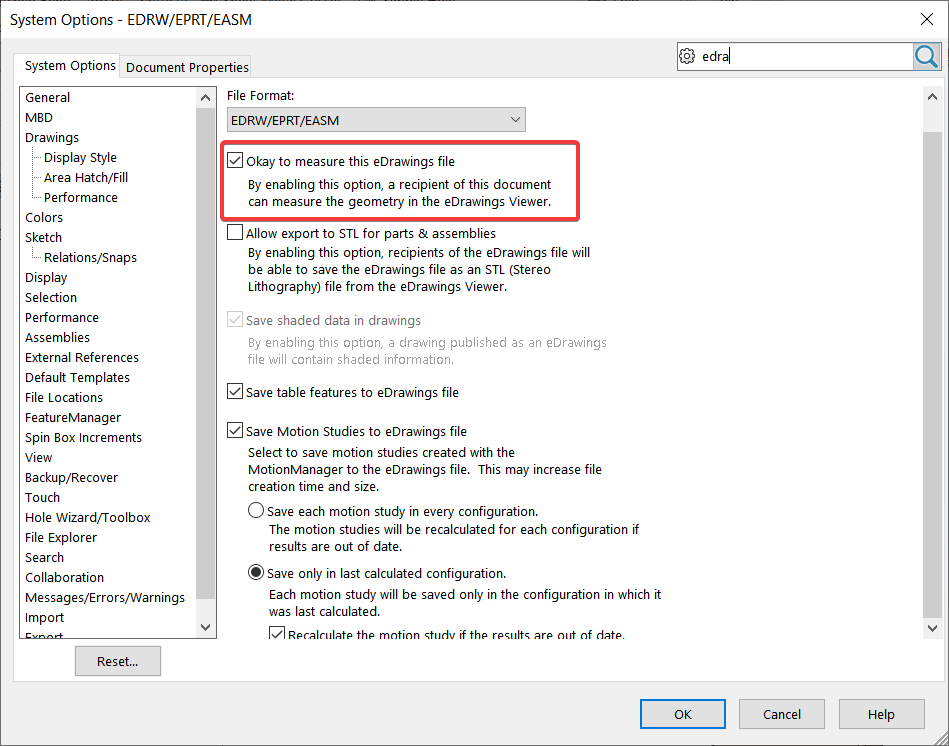 Using eDrawings:
Go to File>Save As
Uncheck the Enable measure box (If a file is already measure-disabled, this checkbox won't even be shown)
If a file originated from SolidWorks Professional or SolidWorks Premium (2006 SP5 or later), it automatically has an embedded Professional license. This is true for native SolidWorks files as well as published eDrawings files.
If a file is saved from eDrawings Professional, it gets an embedded Professional license. Opening a file with an embedded Professional license effectively transforms the free eDrawings viewer into eDrawings Professional (while that file is open).