The CAMworks Feed Speed Library contains a database collection of materials, surface speeds, feed rates and machine duty definitions.
The default location of the database file (MicroEstimatingMaterials.meb) is located in the following directory:
C:\CAMWorksData\MATLIBx64\Resources\
If you would like to share this database with multiple uses and store the file on a network shared drive, use the below procedure.
1. Locate the desired .MEB file from the directory mentioned above and make a copy of it.
2. Place the copied file in the desired directory of the machine that will be hosting the file.
3. Copy the UNC file path of the file and directory to paste into the Settings menu of the Material Library application.
Below is an example of a UNC file path:
\\ServerName\folder1\folder2\MicroEstimatingMaterials.meb
Below is an example of a network file path that will NOT work:
G:\folder1\folder2\MicroEstimatingMaterials.meb

4. On each client machine paste the path into the application and then depress the SAVE button.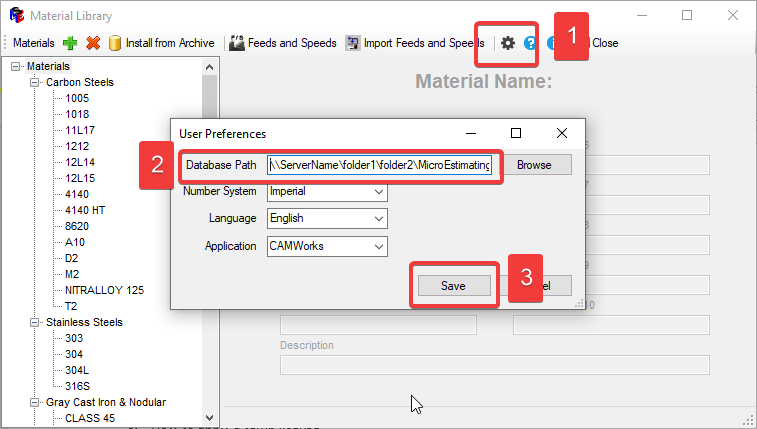 5. The database is now shared but each client machine should refresh its connection to the database by selecting the Update Stock Material Data option in the Technology Database application.