This article discusses the issue surrounding SOLIDWORKS Task Scheduler not running any tasks and the steps to take to troubleshoot it.
When your tasks in your SOLIDWORKS Task Scheduler are scheduled, but do not seem to start at all, this may be the result of your swboengine.exe not running. Swboengine.exe is the process running SOLIDWORKS Task Scheduler and is known as the "Back Office Engine".
You can verify its activity by setting up a task within SOLIDWORKS Task Scheduler to run, accessing your Windows Task Manager (CTRL + ALT + DEL), clicking the "Processes" tab (Windows 7) or "Details" tab (Windows 10), and checking if swboengine.exe is listed.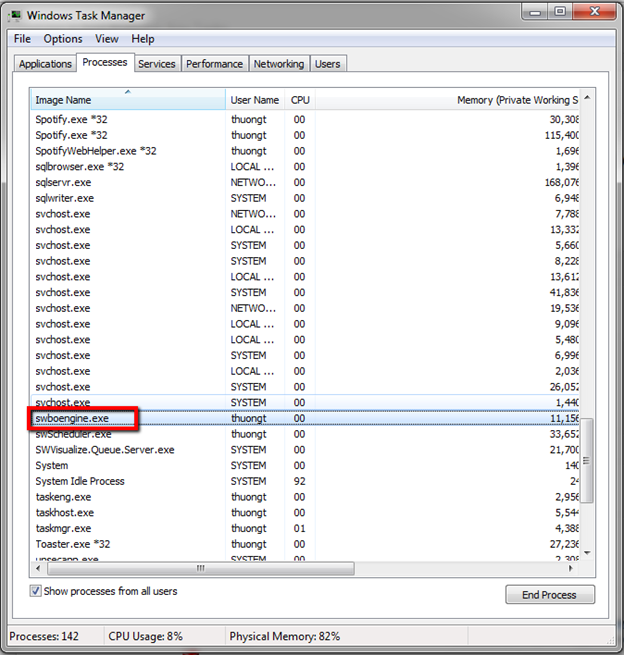 If not, you can manually run swboengine.exe and retest the issue. Disable any anti-virus programs and User Account Controls (via Control Panel), navigate to <installation location>\swScheduler, right-click on swboengine.exe, and select "Run as An Administrator". Please note that the default location is C:\Program Files\SOLIDWORKS Corp\SOLIDWORKS\swScheduler.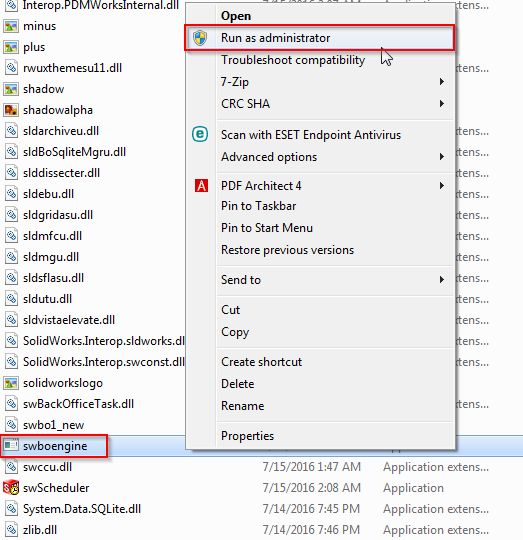 If running swboengine.exe manually resolves the issue, swboengine.exe does not automatically start as it should. You can force it to run automatically at each Windows startup by adding the shortcut of swboengine.exe at C:\Users\<username>\AppData\Roaming\Microsoft\Windows\Start Menu\Programs\Startup.
If the procedure above did not resolve the issue, it has been recommended by SOLIDWORKS to repair the software. If that does not fix the issue, a clean re-installation instead is recommended. Note that before re-installing the software, we recommend to use a Windows user account with administrative privileges while disabling any anti-virus programs and UAC.
If you followed the instructions above and are still encountering your SOLIDWORKS Task Scheduler not running any tasks, please contact Hawk Ridge Systems Technical Support at 1-877-266-4469 (US), 1-866-587-6803 (CAN), or support@hawkridgesys.com.