There have been several reports beginning in June 2021 where viewing PDFs in PDM are failing (shows black background or cause crash) in Explorer Vault View after installing Windows June Security Update (KB5003637).
SOLIDWORKS development has been tracking this with SPR - 1215531 and is waiting on Microsoft and/or Adobe to release a fix.

This has been tested and confirmed to affect PDM 2020 and 2021 so far using Windows 10.
Checking for the Update
Prior to proceeding with any of the fixes below, please verify if you have Microsoft Security Update KB5003637 installed. The easiest way is to launch PowerShell and typing the command "get-hotfix" to show a list of windows updates. It will look like the window below:
Right click the start menu, select Windows PowerShell (Admin).

Type "get-hotfix" and hit enter.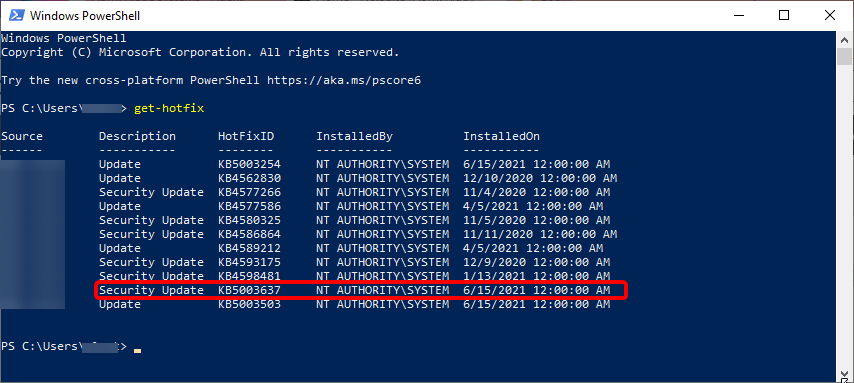 Solution
PDM Professional
Until a software fix is implemented by Microsoft/Adobe, PDM Professional users can temporarily switch to the integrated Oracle Viewer instead of Adobe.
Open the registry editor(regedit.exe) by searching for it in the Windows start menu.
Browse to this key: HKEY_LOCAL_MACHINE\SOFTWARE\SolidWorks\Applications\PDMWorks Enterprise\FileFormats\.pdf
Right click and select Export to create a back up of this registry key before you make any changes.
Double click on value "4".
Remove all rows except for "InsoPlugin.dll" and click OK.
Restart the computer(or restart explorer.exe).
PDF now previews with the integrated Oracle Viewer instead.
PDM Standard
For PDM Standard users, currently there is no known workaround since the Oracle Viewer is not included with PDM Standard.
Since this issue was introduced by a Windows Security KB, please proceed with caution and work with your IT prior to rolling back any of the Windows Updates.