This article describes how to open Archive Server Configuration tool when it does not launch from the Start Menu or from clicking on your application icon. Oftentimes the Archive Server Configuration tool is already open but hidden in your System Tray.
1. In the System Tray of your Taskbar, which is usually at bottom right corner of your monitor where you find the clock. Hover over the icons until you see the Tool tip text "SOLIDWORKS PDM Archive Server" as shown below.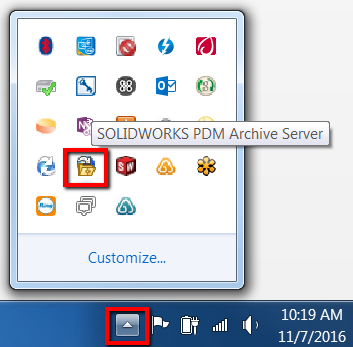 2. Click on the icon to open your Archive Server Configuration Tool.
If you are not able to perform these steps or you have any questions, please contact Hawk Ridge Systems at support@hawkridgesys.com.