This article describes how to delete a PDM Vault View. This may be useful for the following scenarios:
Admin user prohibiting access to the Vault.
Vault View has become corrupted.
Computer changes to include hard drive change.
1. Ensure that all files are checked in the Vault.
2. Right click on the Vault and select Delete File Vault View as shown in the example below.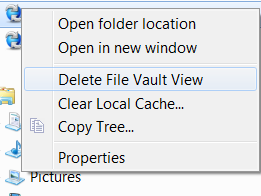 3. You might be presented with a logon screen. If so, go ahead and login.
4. Please select the required option on your screen then click on Delete as shown below.
Please note: If the option 'Delete the cached file vault files and folders from the local hard disk' is selected, all local files in your Vault View will be deleted.

If you are not able to perform these steps or you have any questions, please contact Hawk Ridge Systems at support@hawkridgesys.com.