What are SOLIDWORKS Service Packs?
SOLIDWORKS service packs(SPs) are SOLIDWORKS products updates. They can contain updates for reliability, compatibility, performance, and security. In some cases, SPs also introduce new enhancements and features. They also address known, reported issues with the software, known as Software Performance Reports(SPRs).
When are SPs released?
SOLIDWORKS releases a new year version at service pack 0 around October of every year and then 5 additional service packs for that year version, released in 2-3 month intervals. This is the normal release schedule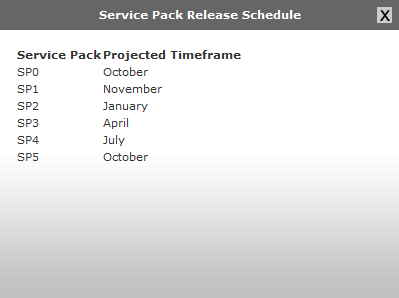 The latest release schedule can also be found on SOLIDWORKS Downloads website.
All SOLIDWORKS products SPs are released at the same time, with the exception of newly released products. For example, Visualize 2016 did not receive 5 service packs since it was released mid-year in 2016.
However, in general, service packs can update any and all of SOLIDWORKS products, including PDM, Simulation, Electrical, and all other add-ins.
When Should I Install Service Packs?
Hawk Ridge Systems general recommendation is that most SOLIDWORKS users install new service packs as they become available, as they provide updates to ensure an even better 3D modeling experience. They also often address critical issues that can prevent users from completing specific tasks or workflows. They also address program compatibility, ensuring that SOLIDWORKS will continue to function well with other software, operating systems environments, and so on.
Another advantage of installing new releases and service packs sooner is that if there is a new bug that needs to be addressed, the sooner that SOLIDWORKS knows about it, the sooner they can work towards a fix. If users wait until SP5 before installing and testing, it becomes difficult for SOLIDWORKS to introduce a fix since there are no more service packs for that major release.
In the end, how and when to install service packs is a company decision and Hawk Ridge Systems can assist with issues that may arise.
You can get more information on SOLIDWORKS service packs under Release Notes here.
Other Considerations Before Upgrading Service Packs
Prior to 2019, PDM users needed to match client and server service packs but now it is no longer a requirement so upgrading client service packs within the same major year is generally easy and requires no server configurations or upgrades.
SOLIDWORKS Electrical users, if they are in a shared environment with other Electrical users, also should all be on the same Service Pack.
How do I Download the Latest Version?
You can find further information for downloading the latest version here: https://www.solidworks.com/sw/support/downloads.htm
Notes
For a list of fixed general bug fixes (SPR) per Service Pack, click here.
For critical hotfix information, click here.