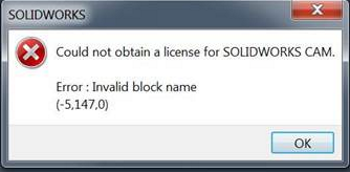 Background:
SOLIDWORKS Visualize Standard and CAM Standard, not purchased separately, are included with subscription service when you have the appropriate SOLIDWORKS Version to include them. When your subscription expires so do these licenses. After a renewal, you need to reactivate your license before they will be available again. However, sometimes a network license will fail to update correctly, and SOLIDWORKS Product will continue to have errors. While this is most frequent with subscription tied Add-ins; it may also happen with SOLIDWORKS Standard licensing on a SolidNetWork License.
Errors may include:
"Failed to Obtain License for SOLIDWORKS <Product>"
"Could not borrow the SOLIDWORKS <Product> License. Invalid (Inconsistent) License"
" (SW_D) <product code> Bad key information: Invalid (inconsistent) license key" shows when accessing the SolidNetWork License log file via the View Log button or opening the lmgrd.log file directly
Solution:
Open the SolidNetWork License Manager Server application on your License Server
On the Server Administration tab click Stop

When prompted confirm the server being stopped - licensing will be unavailable to any end user until restarted
Click Modify
Choose to Move your product license(s) to a new or upgraded computer - this step removes the inconsistent/bad license information from your server

Complete the process and close the confirmation box
Click Modify
Choose to Activate/Reactivate your product license(s)

Complete reactivation
Confirm SolidNetWorkLicense Manager is Started by clicking Start if it is not grayed out
Test your license(s) from a client computer where the issue was happening
If there are any issues please contact Hawk Ridge Technical Support for additional assistance.