SOLIDWORKS Simulation data can be lost if auto-recover options are enabled, as noted in the following bug:
SPR# 1231247 - "SOLIDWORKS Simulation: SOLIDWORKS Auto-recover options can sometimes prevent changes to SOLIDWORKS Simulation studies from being saved or cause newly created study to be missing after reopen"
This issue affects only SOLIDWORKS 2022 SP0 and SP1, and will be fixed in 2022 SP2.
If auto-recover options are disabled, the missing studies may be related to SPR# 1233698 as described in this article.
Workaround
The workaround is to disable both auto-recover options located under Tools->Options->System Options tab->Backup/Recover: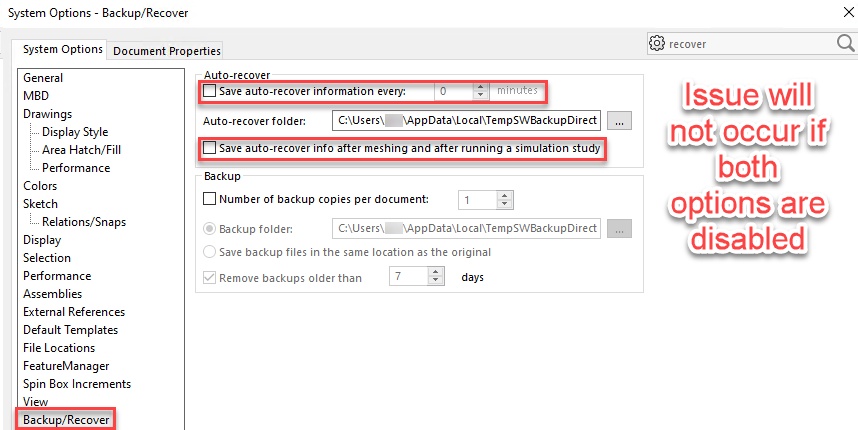 Symptoms
Symptoms of this SPR include:
Missing study tabs upon reopening the file.
"Results may not be valid due to the following changes to this study" warning if the study was solved in the past. Changes to the study setup were lost so existing results no longer match the setup. If this occurs, review the affected study, correct any outdated items, and re-run the study.
Contact Us
For further technical support, please contact Hawk Ridge Systems at 877.266.4469 for the U.S. or 866.587.6803 for Canada.