The steps to download and install Abaqus have been summarized below. For the full installation guide, please see the attached PDF.
Downloading Abaqus Installation File Set
The license server as well as the client installations are installed via the same file set, which can be downloaded from the link below:
Be sure to select the release year that you are looking for and for "Level", select the "Golden" option. Then click on the downloads under the SIMULIA Abaqus Extended Products section. There should be multiple files that add up to approximately 16 GB.
Once the files are downloaded, extract them to the same folder location. The resulting folder structure should be a common installation folder with multiple numbered folders in it, similar to below: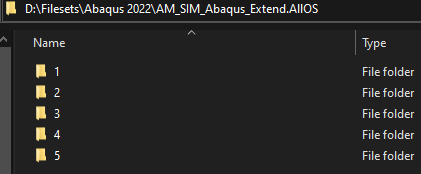 Installing Abaqus
The installation can be run by browsing to the "1" folder and running "setup.exe". The installation manager should guide you through the process to install both the server and the client software.
Note: When specifying the license server type during the installation, please verify that the correct license server type is selected. We generally issue FLEXNET licenses but some customers request a DSLS license ("Dassault Systemes License Server").
Contact Us
If you encounter any issues along the way or have any further questions, you can contact Hawk Ridge Systems Technical Support at 877.266.4469 (US) or 866.587.6803 (Canada) or email us at support@hawkridgesys.com