This article highlights recent changes to the MyWork folder in the 3DExperience update 2022x FD02. For further information on What's new in the 2022x FD02 update regarding 3DExperience data management please refer to 2022x FD02 What's New – 3DX Data Management – Hawk Ridge Systems Support.
​​​​
No More Enforce Copying to MyWork Folder before saving
The MySession Tab settings of Design with SOLIDWORKS previously contained a "Enforce copying to MyWork folder before saving" option. We had often recommended to keep this setting ON to maintain an updated local cache folder of all items saved to the platform. Additionally, if a specific platform management setting were turned ON for auto-naming files, this setting would automatically be ON and unable to be changed by individual users.
In the 2022x FD02 update, this setting has been removed. This has a few implications on data management collaboration and best practices going forward.

All new files saved will be cached in their existing local folders when synced to the platform. If these files are deleted or moved from their original location, they will be cached to the MyWork folder when retrieved from the platform. The removal of this setting provides an improvement to save time when the auto-naming admin setting is ON.

3DExperience Files on This PC
There has been a new tab added in the Design with SOLIDWORKS Task pane, allowing management of locally cached files directly within the SOLIDWORKS environment. This will eliminate the need to manually locate the MyWork folder within Windows file explorer.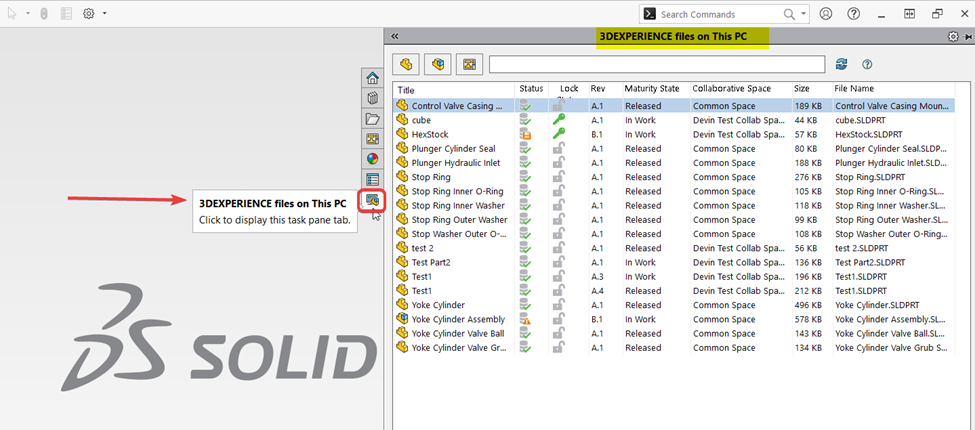 One caveat that must be taken into consideration with these recent changes, is that the cached files cannot be managed over any temporary location. Any non-permanent location such as a removable storage drive, network location, cloud drive (Google Drive, Dropbox, OneDrive) or similar may have potential compatibility issues, as these environments are not tested or supported in Dassault Systems Q.A. processes during their development cycle.
We recommend keeping any cached files stored on the local C:\ Drive or any other permanent location that is local to the user's system.
If you are in a scenario where the file is already cached in a network or other temporary location but is synced to the platform, we recommend closing the file and removing it from the "3DExperience Files on This PC" tab in the task pane. The next time you open the file on this system, it will then be cached to your MyWork folder.
Contact Us
For further technical support, please contact Hawk Ridge Systems at 877.266.4469 for the U.S. or 866.587.6803 for Canada.