The following error can occur during installation or when modifying the installation:
"The source folder is not versioned properly: C:\
If you copied this folder manually, you may have forgotten to copy the
swdata99.id or swdata1.id files which identify the version of a download or
DVD folder, respectively; or the file could not be written."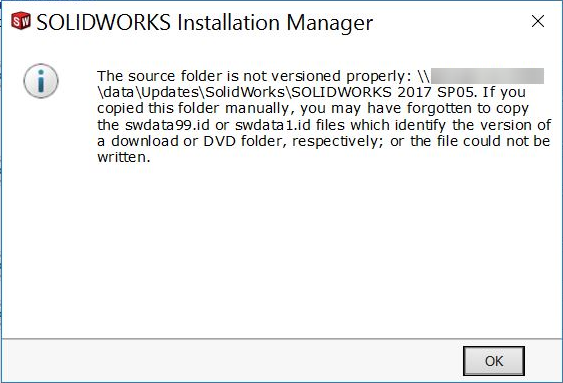 Solution
This error can be resolved using the following steps:
Create a .txt file in the folder location shown in the error message (in this case, the C:\ drive)
Edit the file to contain the installed version and service pack use the format: SOLIDWORKS 20XX SP0X (e.g. SOLIDWORKS 2021 SP04.1)
Save the file and rename it to swdata99.id (Note: the file extension must be changed from .txt to .id (View > check 'File Name Extensions'))
Restart the the installation manager and proceed with the installation.