The following article goes over the process used to request for a new or updated standalone serial number and access code. We are using the Predator DNC Icons and splash screens as an example. This process will be the same for Predator DNC, PDM, MDC Tracker.
Requesting for License Information
If you did not receive an email containing your Predator license information, or if you just upgraded the software, you will need to request for new codes. To do so, send an email to support@hawkridgesys.com containing the following information:

Name
Company
Version of Predator Software you have installed
All network interface card numbers (if you have more than one)
SIM ID (if applicable)

For the subject line, just put your company name followed by Predator access code request. You should receive a reply from our support team with a PDF attached containing your permanent access code. Please note, codes are processed 8am-5pm PST M-F (outside of that timeframe will be processed the next business day)
Entering License Information
When you receive the PDF containing your new serial number and access code, please follow the steps below to enter this information:
1) Close any Predator software currently open on the PC.
2) Shift + Right Click on the appropriate Predator icon. For DNC, you must use the red Predator DNC Administrator desktop icon and select Run as Administrator. Specify Windows administrator Credentials (if required) and click OK.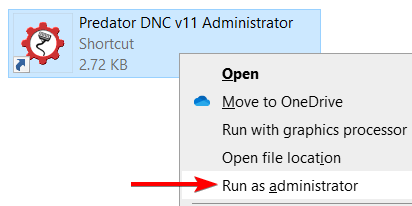 3) The Predator Registration Information window will appear. If not, click Options > Upgrade.
4) Once the Predator Registration Information window is open, click the Network ID button at the bottom. Take note of all of the number(s) that are listed for your network interface card.
Additionally, if you have a USB (dongle), click on SIM ID and take note the SIM number in the readout area, as well.
5) Fill in the Required information:
- Type your Name and the name of your Company. (do not leave these fields blank)
- Type or copy & paste the Serial Number and Access Code from the license confirmation email or from a sticker within the DVD packaging.
- From the License Type pulldown, select Network Card if you are using a NIC License. Or, USB if you are using a SIM Key.

6) Select OK to close the dialog box and the software will open.
Step by step process for license registration via a Floating network license
After Predator MDC has been installed step through the following process to register your license:
Close Predator MDC, should it be running
Verify that the server running Predator FLM is running by pinging it
Shift+Right Click

on the purple Predator MDC desktop icon and select

Run as administrator
Optionally specify Windows administrator credentials and click Ok
The Predator registration/upgrade dialog will appear, if not the application will start, select Upgrade from the Options menu
Type your name and company, do not leave these fields blank
Type or copy & paste the serial number and access code from an email or a sticker within the DVD packaging
Select Floating License Manager from the license type pulldown
Type the name of the server running Predator FLM, or an IP address
Type the Ethernet port number configured within Predator FLM, 1024 is the default
Click the Ok button and the Predator MDC splash screen will appear
If you have questions on this process, please contact the Hawk Ridge Systems Support Team at support@hawkridgesys.com