Many users are finding they are running into the following error when closing SOLIDWORKS 2020 SP4 or turning add-ins off or on.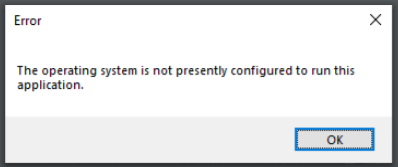 The issue is currently under investigation by the SOLIDWORKS development team and reported in the software performance report (SPR) 1193884. The issue appears to be caused by a conflict between the latest update of MS Office 365 released on September 1, 2020, and the SOLIDWORKS CAM add-in.
Solution
SOLIDWORKS Development has collaborated with Microsoft Development and Microsoft has resolved this with Office 365 (Office 2019) versions 13231.20262 and 13231.20250 released on September 28, 2020.
If you are still experiencing the error 'The operating system is not presently configured to run this application,' please Select the Start button, then select Settings > Update & security > Windows Update to update your Office 365 (Office 2019).
Alternate Solution
To resolve the issue, install the Microsoft Access Database Engine 2010 for 64-bit. Download and install the following:
AccessDatabaseEngine_x64.exe from http://www.microsoft.com/en-us/download/details.aspx?id=13255
Or, rollback the Office365 installation to a previous version and block automatic updates to Office365 using the instructions below.
https://support.microsoft.com/en-us/help/2770432/how-to-revert-to-an-earlier-version-of-office-2013-or-office-2016-clic