This guide is written to assist with choosing your version and a general understanding of 3DXpert for SOLIDWORKS.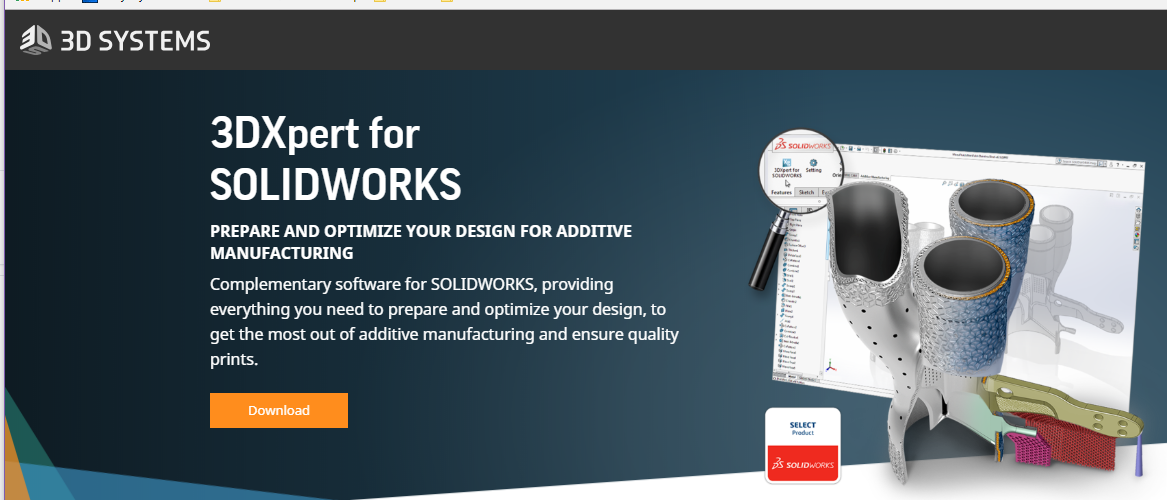 This document is a guide that will help you through choosing your version and answer some frequently asked questions.
3DXpert equips professional users, designers, and engineers with everything they need to prepare and optimize their design for additive manufacturing.
Contents
Versions and Feature Comparison
Versions and Feature Comparison
There are two versions of 3DXpert: Standard and Pro
3DXpert Standard is available exclusively for SOLIDWORKS 3D CAD subscribers, at no extra cost.

3DXpert Pro may be purchased; please contact your Sales Rep for more assistance with sales.
Compare the versions to determine what you want or need.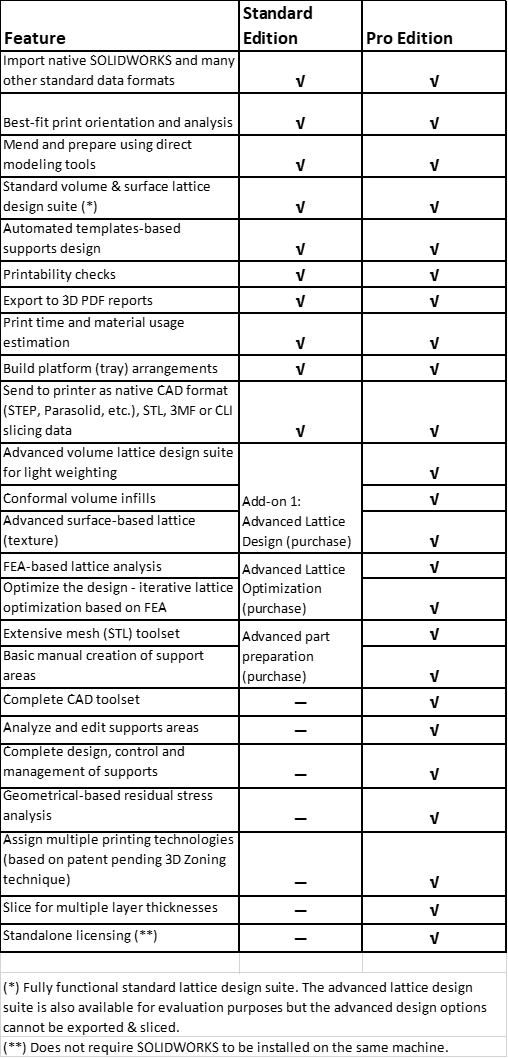 Q: What is 3DXpert for SOLIDWORKS?
A: It is a standalone application developed by 3D Systems for doing design for additive manufacturing. It complements SOLIDWORKS by adding the specific capabilities required to optimize designs for 3D Printing.
Q: How much is 3DXpert for SOLIDWORKS?
A: 3DXpert for SOLIDWORKS is exclusively available to SOLIDWORKS Subscription customers as part of their CAD subscription. There are three advanced add-ons to extend the functionality which can be purchased from 3D Systems/Resellers that can sell the add-ons.
Q: What can 3DXpert for SOLIDWORKS do?
A: From SOLIDWORKS CAD, there is one click to transfer the data into 3DXpert for SOLIDWORKS. In there, you can optimize the part for 3D Printing. The first step is to orient the part automatically based on a range of criteria, minimum supports, minimum print time, and minimum internal supports. Then you can add machining offsets, remove holes, and anything else to prepare for Printing. You can also use lightweight parts by adding infill or lattice structures. It is also possible to add surface lattice or surface textures. Once you have finished the design of the part, you can design the support structures semi-automatically using built-in templates. The last step is to slice the file and export it ready to be loaded into the printer-specific software.
Q: What printers is 3DXpert suitable for?
A: 3DXpert is suitable for all 3D Printers. It is machine agnostic. You DO NOT NEED A 3D SYSTEMS Printer.
Q: Will, my license of 3DXpert, expire when my subscription expires?
A: Yes, it is an exclusive benefit of subscription like SOLIDWORKS Visualize.
Q: When will 3DXpert for SOLIDWORKS be available?
A: It was available the moment it was announced on the main stage, Tuesday, February 6th, 2018.
Q: Where do I get 3DXpert for SOLIDWORKS from?
A: It is downloaded from the 3D Systems website. Download here
Q: How do I activate 3DXpert for SOLIDWORKS?
A: It is activated through MySolidworks.com (like SOLIDWORKS Xpress products are today). You need to have registered SOLIDWORKS on the Customer Portal, and your MySolidWorks ID needs to be associated with your SOLIDWORKS serial number. Otherwise, you will get an error message when trying to activate. Install and Activate 3DXpert
Q: What types of 3D Printing is 3DXpert for SOLIDWORKS suitable for?
It is suitable for all types of the printer for the design aspects. Support structures are only suitable for metal powder bed printers for the initial release. Supports for other processes will be added in future versions.
Q: What is the purpose of these design tools?
This is aimed at companies wanting to design production parts that will be 3D printed. 3D Printed prototypes that will ultimately be manufactured by another method will not be the focus of 3DXpert for SOLIDWORKS.
Q: What products compete with 3DXpert for SOLIDWORKS?
The main competitor of this product/partnership is addressing is Autodesk Netfabb. It also competes with some areas of Autodesk Within. Siemens NX has some technology from Materialise, which also does similar things but at a much, much higher price point.
Q: Where do I get support for 3DXpert for SOLIDWORKS?
Support will be online via the SOLIDWORKS Forums. The concept is similar to DraftSight. Get Support
Q: Where do I get training for 3DXpert for SOLIDWORKS?
Training for the standard version will be online via SOLIDWORKS University and on the 3D Systems landing page. Advanced training can be obtained from 3D Systems. If there is enough demand, we will arrange a face to face training at SOLIDWORKS locations globally.
Q: When I am doing an evaluation of SOLIDWORKS, can I also evaluate 3DXpert for SOLIDWORKS?
Currently, no. SOLIDWORKS Evaluation licenses do not have subscriptions attached to them in our system, so 3DXpert for SOLIDWORKS cannot be activated. It is, however, possible to contact your local 3D Systems sales contact and get a trial of 3DXpert Pro during your evaluation of SOLIDWORKS.
3DXpert for SOLIDWORKS - Tech Blog
For our 3DXpert Illustrated Installation and Activation Guide Click Here