Overview
When attempting to use the SOLIDWORKS Toolbox or Inspection tool (among other SOLIDWORKS products) you may encounter an error similar to the following: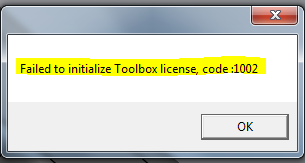 The cause of this error is often due to a Windows® root certification needing to be updated to accommodate the newest .dll's.
Solution
1. Download the attached file to the 'C:\temp' folder. Create this folder if it does not already exist.
2. Open a Windows command prompt as administrator.
3. At the command prompt, type the following command: C:\temp\rootsupd.exe /c /t:C:\temp\extroot> and then press enter. to extract the 'rootsupd.exe' file and then press Enter.
The command creates a new 'extroot' folder in which it stores the extracted files.
4. To update the certifications, at the command prompt, change directory to 'C:\temp\extroot'.
5. Enter the following four commands one-by-one hitting enter after each command:
a. updroots.exe authroots.sst
b. updroots.exe updroots.sst
c. updroots.exe -l roots.sst
d. updroots.exe -d delroots.sst
Once you've typed in all of the above lines reboot your system and attempt to use the tool again to verify if the issue is resolved.