When importing a file into SolidWorks 2017 or later, they may find working with imported files working differently. This is due to the 3D Interconnect option located under Tools->Options->Import->"Enable 3D Interconnect". As a visual way to see if a file was imported using 3D Interconnect, the files will have a slightly different icon in the feature tree with the green arrow pointing to the left: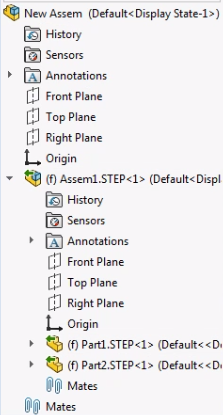 As a brief summary of this option, it allows for the import of non-SolidWorks files while maintaining a parametric relation with them. As a result, the way that users interact with the files will be different.
Some of the typical workflows that won't be available when using the 3D Interconnect feature are:
-Opening up individual parts of the imported assemblies as a SolidWorks file
-Running Import Diagnostics
The reason for this is because since the files imported with 3D Interconnect do not actually create a SolidWorks file, there is no need for these workflows.
For more details about the 3D Interconnect feature, please see the article below:
http://help.solidworks.com/2018/English/SolidWorks/sldworks/c_sw_3d_interconnect.htm
If you have any further questions about the 3D Interconnect feature or are encountering any issues with it, please feel free to call Hawk Ridge Systems Technical Support at 877.266.4469 (US) or 866.587.6803 (Canada) or you can email us at support@hawkridgesys.com.