This article describes how to resolve the error message: "The application serial number could not be found. This product cannot be used without a valid serial number", present when starting SOLIDWORKS Composer.
Root Cause
During the installation phase of any SOLIDWORKS product, the license serial number will be saved to the Windows Registry. When launching a particular product or add-in, the Windows registry will be checked to ensure that there is a valid serial number present.
The error message shown above can happen when a single serial number encompasses both SOLIDWORKS and Composer, potentially causing the registry entry for a Composer serial number to not be created.
Solution
In order to resolve this error, the existing installation of SOLIDWORKS will need to be modified. This can be done by following the steps below.
1. Open the Control Panel, and select "Programs and Features" (or select "Uninstall a Program", depending on the Control Panel layout).
2. Right click the installation of SOLIDWORKS associated with the problematic Composer version, and select "Change", as shown below.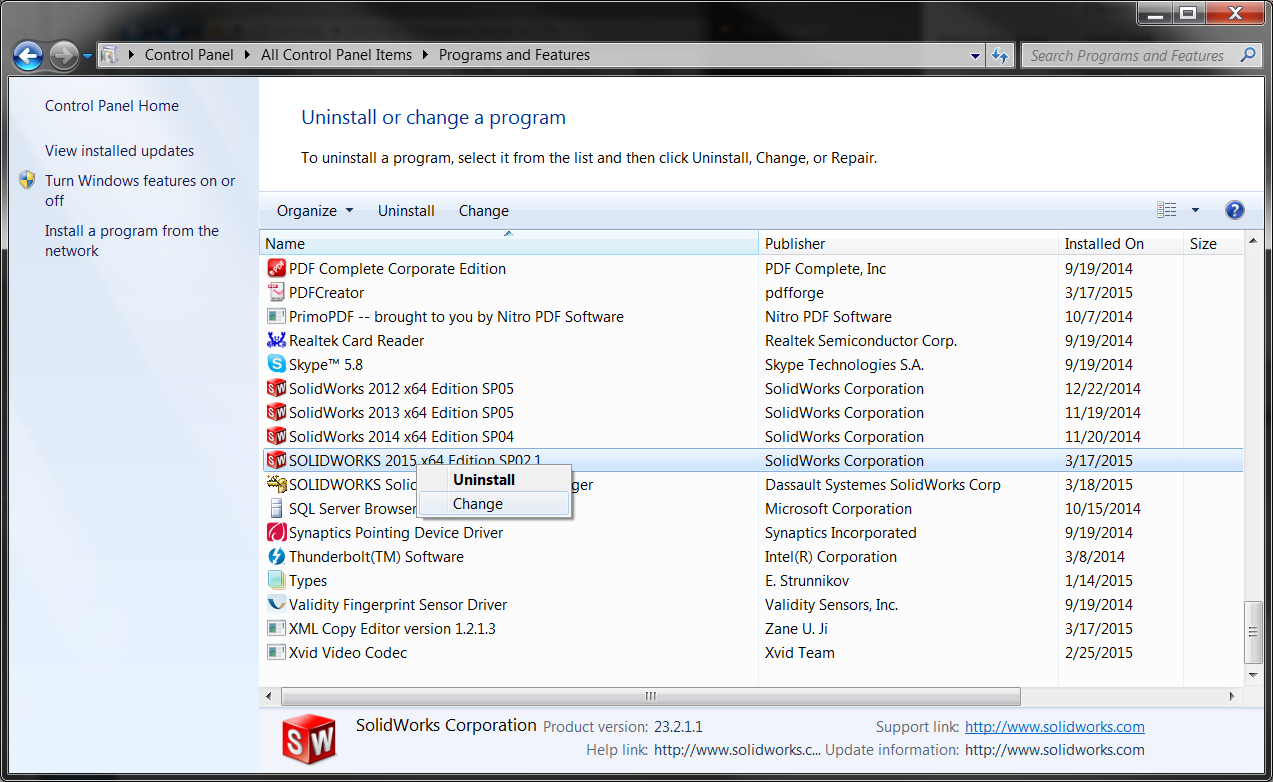 3. When the Installation Manager Opens, select "Modify the individual installation", and proceed to the next screen.
4. Select the "SOLIDWORKS Composer" field, and input the serial number associated with SOLIDWORKS and Composer. This serial number should already appear in the top field.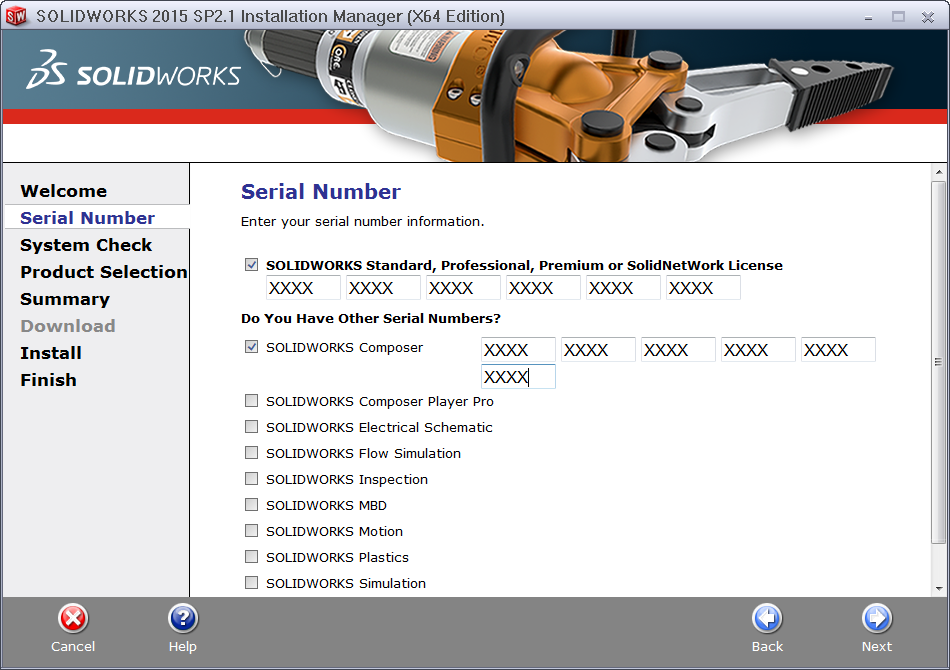 5. Proceed through the remaining sections until the modification is complete.
6. Attempt to launch Composer.
If following these steps does not resolve the issue, please contact Hawk Ridge Technical Support at Support@HawkRidgeSys.com, or proceed to the next section titled "For Advanced Users".
For Advanced Users
Beyond modifying an installation, the serial number for Composer can also be manually added to the Windows Registry. This can be accomplished by following the steps listed below.
1. Type "regedit" without quotation marks in the Windows Search Field.
2. Right click "regedit.exe" and select "Run as administrator".
3. Navigate to the following key: HKEY_LOCAL_MACHINE\SOFTWARE\SolidWorks\Licenses\Serial Numbers
4. Under the "Name" column, right click on the empty space, highlight "New" and select "String Value" as shown below.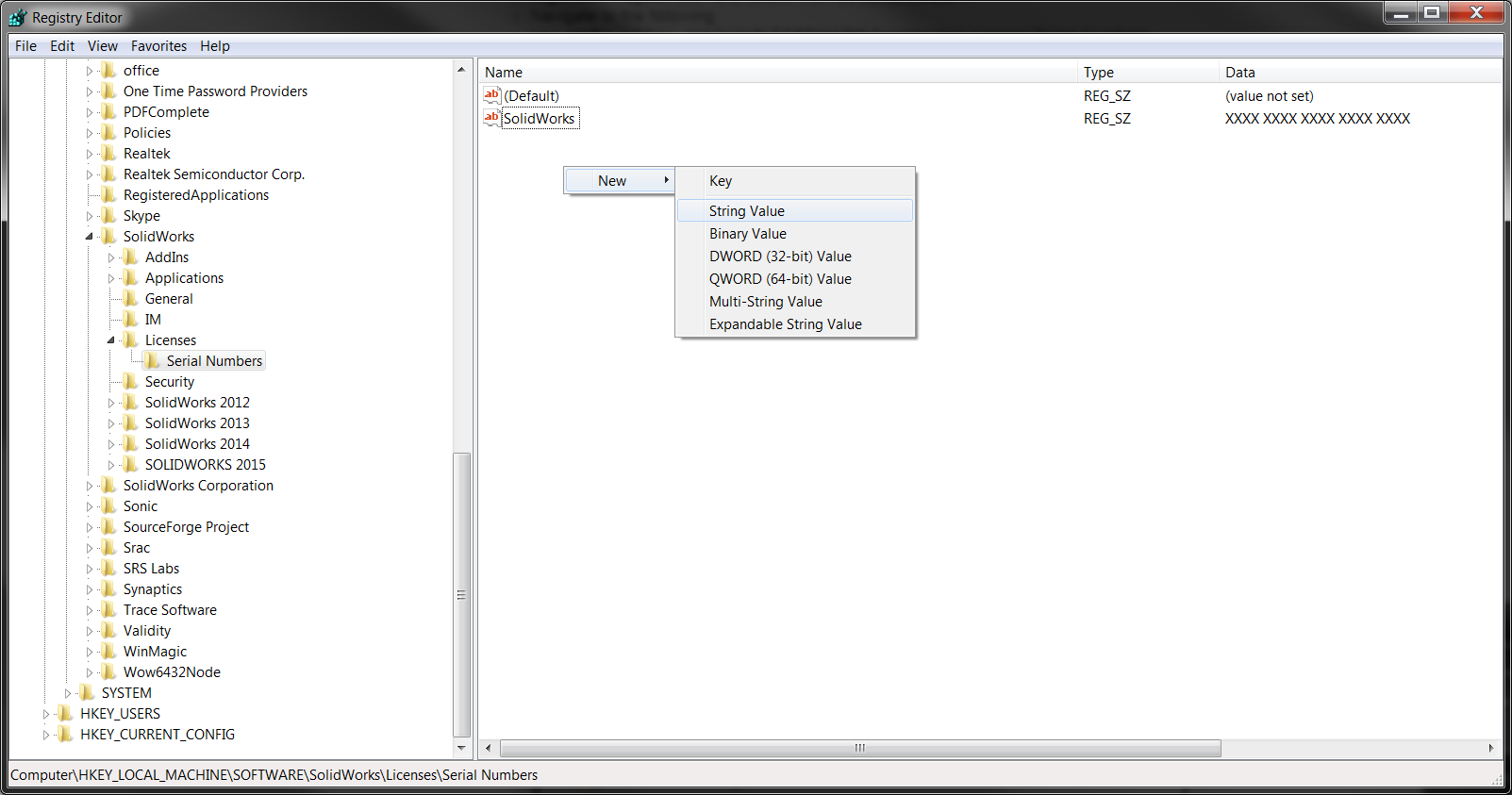 5. Change the name of this new string to Composer.
6. Right click the newly named String, and select "Modify".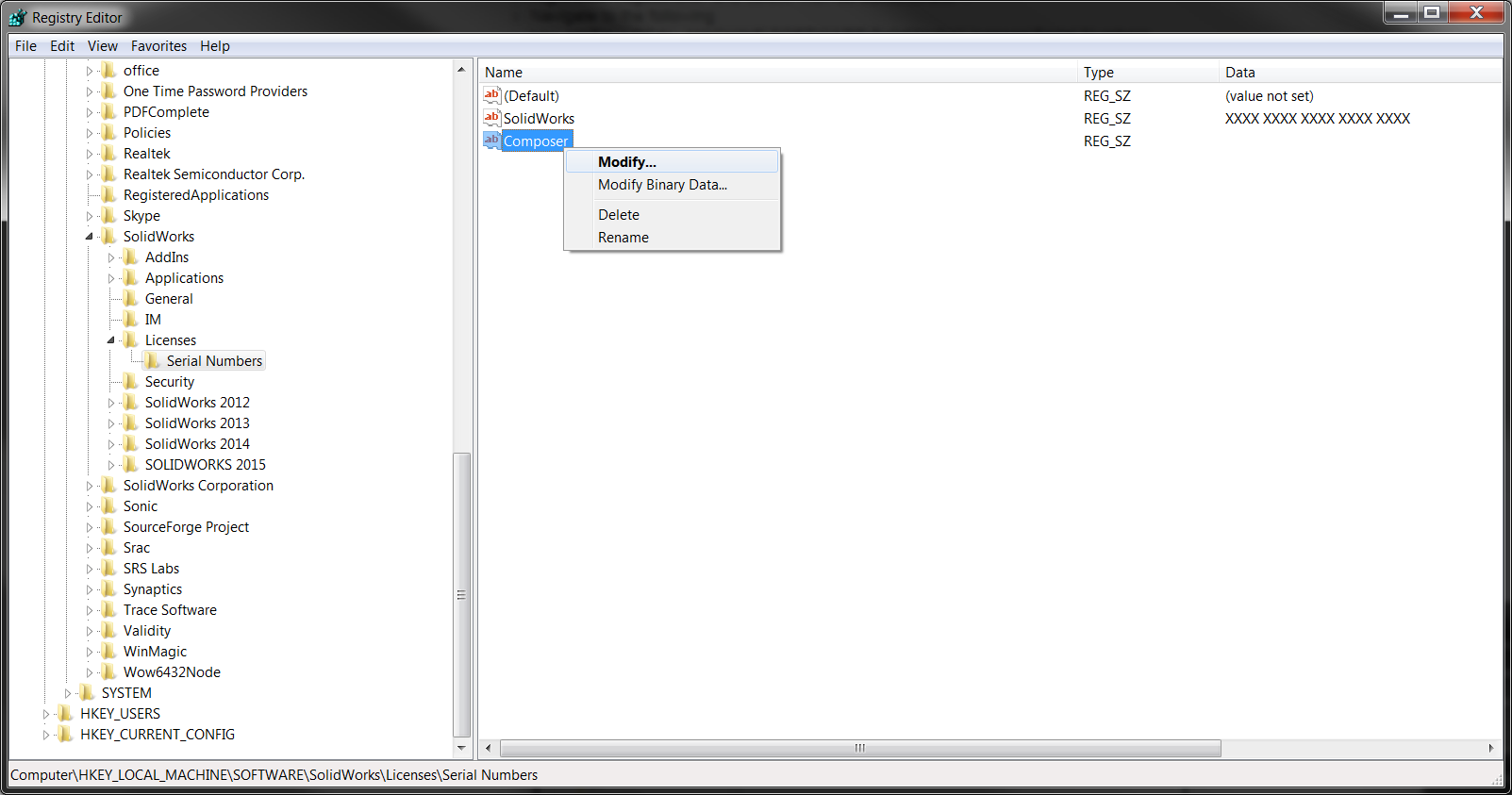 7. In the "Edit String" window that appears, type the full 24 digit Composer serial number under the "Value data" field.
8. It is important that the serial number have a space after each four characters, so that the final format is five groups of four characters each, as shown here: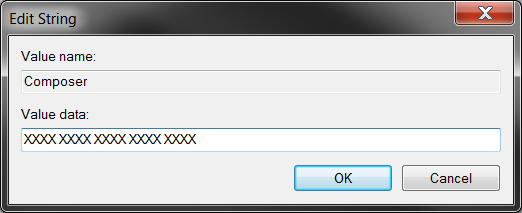 9. After the serial number has been successfully added, repeat steps 4 through 8 for the registry key: HKEY_LOCAL_MACHINE\SOFTWARE\Wow6432Node\SolidWorks\Licenses\Serial Numbers
After these registry entries have been added, try to launch Composer again.
If these additional steps do not resolve the issue, please contact Hawk Ridge Technical Support at: support@hawkridgesys.com