| | |
| --- | --- |
| TITLE: | SOLIDWORKS 20XX is not supported on the Windows XP/Vista operating system and will not be installed |
| DATE: | DEC 2014 |
| SUBJECT: | Installation |
| ABSTRACT: | Troubleshooting this common installation error message |
If you are trying to install SOLIDWORKS and encounter the error message shown below, even though you are on Windows 7 or newer, you are most likely running the setup in compatibility mode.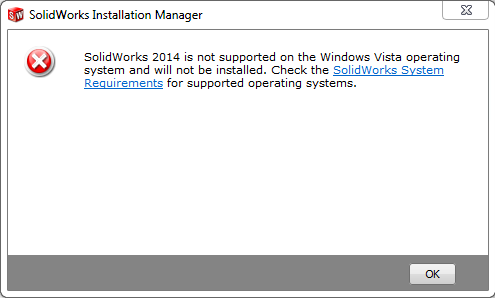 To check if Compatibility mode is turned on. Right mouse button on setup.exe, choose Properties, then select "compatibility" tab. Uncheck the box for "Run this program in compatibility mode for..." if it is checked.
You should also make sure compatibility mode is turned off for sldIM.exe, located in the sldim folder.